District hopes enthusiasm for magnet schools will spread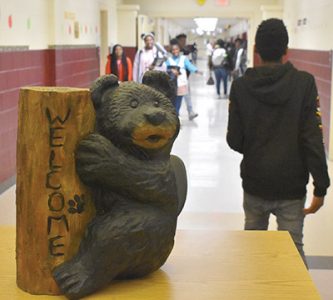 Carvers Bay Middle will become a STREAM academy.
Magnets attract.
Students from the Waccamaw Neck, Georgetown and Andrews are what the Georgetown County School District is hoping will be attracted to the Carvers Bay area in August when its five schools transition to magnet schools.
Each school will have its own theme: creative and performing arts; STEAM (science, technology, engineering, arts, math); digital immersion; STREAM (STEAM plus reading); and early college and career.
"When a magnet school is done well, it is an integration between the core subjects and their theme," said Constance May, project director for the district's Magnet Schools Assistance Program. "It's not doing something extra, it's just really enhancing the curriculum that we can bring to the children. That helps the students make connections to math and science, or social studies and ELA."
May worked in magnet schools in the Richland Two School District for more than 13 years. She was principal of Sandlapper Computer Science Immersion Elementary School, an assistant principal at L.W. Conder Arts Integrated Magnet Elementary School, and a lead teacher for the INC. Magnet Program at Kelly Middle School.
"I know the value that it brings to all the students," May said.
The program is funded by a $14.9 million grant from the U.S. Department of Education.
Superintendent Keith Price and the five Carvers Bay principals were at a magnet school conference in Washington, D.C., in November and Price was asked what he was most looking forward to.
"My response to that was bringing opportunities to the schools and the students in this area that otherwise they would not have," he said. "They're going to have opportunities laid before them now that if it were not for this grant, we would not be able to provide."
The district picked the Carvers Bay schools because they have the smallest population – 1,162 students – and the highest poverty rate – 85.8 percent – of the four areas of the county. Also, 65 percent of Carvers Bay students are Black.
Brown's Ferry Elementary School will be a creative and performing arts school where students will work with guest artists-in-residence, dance and strings instructors; have access to a studio where they can record themselves singing, playing an instrument or doing voiceovers; and work in an iMac lab to learn about keyboarding, coding and graphic design.
"I am beyond excited for the opportunities that it will afford my children," principal Tawanna Grant said. "Opportunities that some of them may have, but also for the ones that do not have that opportunity, opening that door to them. We're blessed. We're very excited about what's about to happen."
Grant said choosing a performing arts theme was a "no-brainer."
"My kids, they love to perform," Grant added. "I laugh every day with the staff and we say there's a show every day. It might not be the right show, but every day at Brown's Ferry there's a show. Our kids, they have a natural talent for the arts."
When the theme was being considered, Brown's Ferry parents wanted to make sure technology was also represented.
"In a digital age, they do need technology," Grant said. "Of course we infuse technology in education, but we also need to make sure that we infuse technology so that what they're interested in, we can engage them."
Technology is also the key at Plantersville Elementary School, where the focus will be on digital immersion, which is the merger of the physical and digital worlds through virtual reality, augmented reality, mixed reality and extended reality.
"Everybody knows that technology is here," principal Darryl Stanley said. Parents "know that their own kids can do more things with a cell phone than they can. What we're trying to do is make sure we incorporate these things in our everyday instruction."
When Stanley and his team visited the Sandlapper school where May was principal, he realized his own students were a little behind.
"We were amazed to go out and see the classrooms and see kids as young as kindergarten working with coding and doing robotics," Stanley said. "The kids knew exactly what to do and they could show you what they were doing and how they were doing it."
As is the case in all five schools, Plantersville's teachers have access to staff development as they prepare for the transition, including another visit to Sandlapper.
"For a teacher, one of the most important things is to see another teacher doing it already," Stanley said. "It takes away some of that anxiety. This isn't something that's going to be too hard for you. It's going to enhance your instruction."
The staff at Pleasant Hill Elementary School is "excited" about transitioning into a STREAM academy, according to principal Lee Glover.
"This is new for them so there's a level of nervousness – maybe," Glover said. "For the most part, they're a group of go-getters. You put a task in front of them and they assess that task and then they start making it work for those things and those kids in their class."
For science at Pleasant Hill, the emphasis will be on the environment, including outdoor classrooms, beehives and a greenhouse. The technology curriculum will include robotics. Math studies will be hands-on.
Glover said the school's focus will be on "authentic" learning.
"We want to make sure that our kids are problem solving real world things that they're going to see," he added. "We have to make sure … that our focus is the integration of problem solving, technology, hands-on learning, project-based learning, authentic assessments and student collaboration across the content area."
This is Glover's first year at Pleasant Hill. Last year, he was principal at Carvers Bay Middle and helped come up with the idea of a STEAM academy with the motto of "imagine, inquire, invent, inspire."
Current principal Norine Grant-Fraiser is "stoked" about the transition.
"You know how they always say, 'there's nothing new in education,'" she said.
Grant-Fraiser said the school wants to make students ready for college, a career, or the military.
When she was a student at Andrews High School, Grant-Fraiser was on a college prep tract, so she didn't take any of the work study classes like automotive repair or construction.
"What this [program] now says is I can have it all, I don't have to choose," she said. "I can do a little bit of both."
Offering options to middle school students will help when they arrive at Carvers Bay Early College and Career High School, where the emphasis will be on STEM, performing and visual arts, and enhanced culinary and agricultural science programs.
"The community is really, really excited about it. They're excited about the different programs and pathways that we're going to bring," principal Larry Odom said. "What you want is programs that close the achievement gap. We've got to think of things that are going to attract people, attract more students to want to come here. I think it's a great opportunity."
As part of the expanded culinary arts program, the school is getting a food truck, which students will use to prepare and sell items to the public at sporting events and on other days.
"It becomes not only a school commodity, but now it's a community commodity," Odom said. "Everybody can benefit from it."
Proceeds from the truck will put back into the program.
Students will also have the opportunity to earn associate's degrees before they graduate. Odom believes this will be the option that attracts some students.
The $14.9 million grant will help pay for the college classes.
In some cases, Price said, it will prepare a student for what college will be like. In other cases, it will convince a student that college is not the right path for them, he added.
The grant expires in five years. Price is already planning for six years from now.
"I've already talked with a community partner that after the funding from the grant runs out for these college courses at the high school, they might be willing to pick up that bill so it could still come to our students at no cost whatsoever," Price said.
Even though May didn't join the district until this week, she met with the five Carvers Bay principals before the winter break.
"I have to say that it is exciting to work with them because they're all excited and they know what this will bring for their students," she said. "When you have the principals on board and they're already talking to the community and they're talking to the staff and they're talking to students about what's coming and getting the community involved, that's huge."
Students in the Carvers Bay area will automatically be enrolled in the magnet school program. Carvers Bay parents who don't want their child to attend a magnet school will have the option of sending them to a different school. The district will follow the same procedure it has in place now for a student attending a school outside their attendance zone.
Students from across the district can attend any of the magnet schools based on their grade level. There will be no academic or GPA requirement or test to pass to be accepted. If more students apply for a school than there is room for, a lottery system will be used.
The district plans to host a magnet fair in the spring to introduce parents to the changes.
There will be a deadline to apply to be part of the magnet program. That will give the district time to adjust staffing levels and bus schedules before the first day of school on Aug. 3.