District insider and newcomer will represent Waccamaw Neck on school board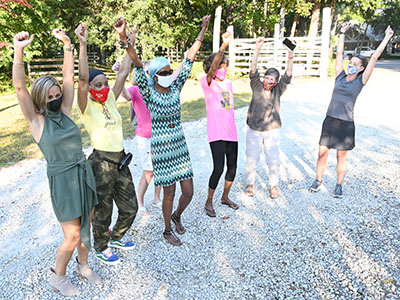 Lynne Ford, third from left, with supporters at a campaign event last month.
The Waccamaw Neck's two new school board members are ready for the biggest challenge facing the district: getting students back inside classrooms full-time during the COVID-19 pandemic.
"How do we properly prepare our children for their future in the current state that we're in? We don't want this pandemic to set our kids back anymore than they have already been," said Lynne B. Ford. "I think it's going to be really important to take whatever emotion there is out of the conversations when it comes to keeping our children safe, but making sure they are getting quality education right now."
She won the District 6 seat on the nonpartisan Georgetown County School Board this week.
"If we're going to remain the way we are, we're going to have to serve our hybrid students stronger," said Patti Hammel. "The hybrid children are really getting two days to instruction and that's about it. My concern is, what are we going to do about that and how are we going to make that better?"
Hammel won the District 1 school board seat. She retired from Georgetown County School District in 2017 as executive director for student performance and federal programs.
Ford is the communications manager at Holy Cross-Faith Memorial Church and consultant with Arbonne International.
This was the first run for elected office for each candidate.
Ford easily won a three-way race to fill a seat left vacant by the death of Richard Kerr in May. She received 3,036 votes. Vincent Davis, a chef and president of the Pawleys Island Civic Club, received 733 votes. Ronald O. Thompson, a pastor and business owner, received 723 votes.
Ford said she was humbled by the outpouring of support.
"That says to me that people have seen what I stand for and they believe in me and the values that I stand for in terms of education," she added.
Hammel was elected to the District 1 seat held by Sarah Elliott, who did not seek re-election. Hammel received 2,545 votes. Amanda Darden, a Coastal Carolina University professor, received 2,251 votes.
"You always go into things thinking you could win, but at the end of you think, 'well, did I really win?,' " Hammel said. "That people really trusted me to be a voice for them, I was really moved by that."
Ford and Hammel will be sworn in at the school board meeting on Nov. 17.
"I look forward to getting to work and I look forward to working for the young people of Georgetown County," Ford said. "It's exciting to know I have this whole community that is counting on me, hopefully in a positive way to really make a difference on the school board, or at least contribute some value."
Three other seats on the nine-member board were also on the ballot this week.
Randy Walker ran unopposed for re-election in District 4.
Bill Gaskins won the District 5 seat left vacant by the death of Elery Little in March. Although Gaskins had an opponent on the ballot, former Board Member Johnny Wilson, Wilson had withdrawn from the race.
In District 3, incumbent Sandra Johnson beat Ramona Staggers-McCullough by 20 votes, 1,167-1,147. The result could be close enough to require a recount.