District makes plans for earlier start in 2023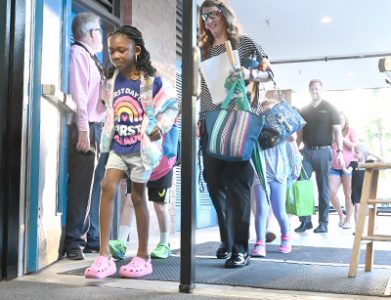 Students would start classes on Aug. 3 under the proposal.
The Georgetown County School District is moving forward with a proposal to begin the next school year at the end of July. Teachers would report July 27 and the first day of classes would be Aug. 3, a week and half earlier than this year.
Superintendent Keith Price unveiled a plan for a "modified year round" calendar in January and then hosted public meetings at each of the high schools in the spring. Once the meetings were over, a survey was posted on the district's website.
The results showed that 57 percent of the 2,721 respondents favored the modified year-round calendar, including 64 percent of district employees, 57 percent of parents and guardians, 46 percent of community members and 34 percent of students.
Under the proposed calendar, both semesters would have 90 days and the first semester would end before winter break. Schools would be closed for one week in October, November, December, January and April. The last day of school would be May 24, 2024, which is the Friday before Memorial Day.
Under state law, school cannot start before the third Monday in August. If the proposed calendar is approved by the School Board, the district will have to get approval from the state. The district was advised that calling 2023-24 a "modified year round" schedule might pass a challenge by the state if some of the extra vacation time is used to provide support for students who have fallen behind.
Price said students who are failing classes, or need extra help, would be "invited" to attend remedial classes for a few days during some of the weeks that schools are closed. The district cannot require students to attend.
"If a student was on track and doing well, then they get those five days off," Price said. "If a student is struggling and falling behind they may be invited to come in. Instead of having five days off that week, maybe they have three days off that week and come for intervention on one or two of those days while everyone else is off."
Board Members Patti Hammel, who represents District 1, and Lynne Ford, who represents District 6, expressed concerns about there being three months between the second week of winter break and spring break.
"I have a very difficult time understanding how that long a time without a break is going to affect remediation," Hammel said, adding that the only academic benefit she could see in the proposed calendar was the first semester ending before winter break.
Ford was also concerned that students wouldn't want to give up vacations.
"Most kids, they want the time off," Ford said. "Even the students that are struggling. How do we incentivize them to come in?"
Price told Ford he would check on incentives for students.
"We thought it would be a good idea and a good opportunity to try and seize some of that time rather than taking away from regular instruction and do some more with students to try and close some of those gaps," he said.
The calendar also has eight staff development days, including Oct. 9, the first day school's are closed for a week.
If the new calendar is adopted, summer break would be about a week-and-a-half shorter. Despite that, Price said the district will still offer the same classes and academic camps next summer.
"Even now, we offer some interventions and opportunities after school, and it's not enough," he added. "So we have to offer those opportunities for students to go and recover, or retake, what they were unsuccessful with during the school year."
The next discussion of the calendar by the board is expected on Oct. 18.
The calendar will have to be released for public comment before the board votes on it.