District pitches new opportunities for students in magnet program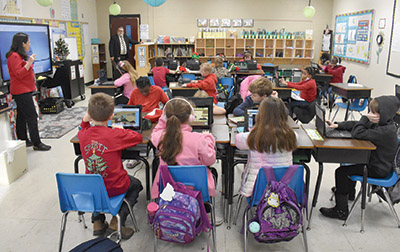 Pleasant Hill Elementary is due to become a STREAM magnet.
One of the essential parts of the Georgetown County School District's new Magnet Schools Assistance Program is bringing equity and opportunity to all students.
"It's going to be a wonderful experience for our students; giving them an opportunity to kind of figure out what they like and where they shine, and then how we can help them go where they need to be," said Constance May, project director of the program. "Whatever direction they choose in life, we want to provide different opportunities for them to be successful."
The five schools in the Carvers Bay area – Brown's Ferry, Plantersville and Pleasant Hill elementary schools, and the middle and high school – will transition to magnet schools starting with the next school year. Each school will have its own theme: creative and performing arts, digital immersion, STREAM (science, technology, reading, engineering, arts, math), STEAM (science, technology, engineering, arts, math), and early college and career.
"We are hopeful to increase enrollment in those schools, but we'll have to see what comes of the lottery in April," May said.
The new themes – like the arts at Brown's Ferry – will be implemented in all classes.
"The teachers won't be teaching arts in isolation. They're going to integrate with the content and the state standards," May said. "I think it will really enhance engagement in the classroom."
Staff from the five schools have been visiting similar magnet schools in other districts to get ideas for things they want to do at their schools.
"Everybody has been so enthusiastic and so willing to jump in and to prepare to help their schools be successful in their implementation," May said.
The district is in the process of hiring lead teachers at the five magnet schools who will support teachers by co-teaching or working on professional development.
"They're going to work hand-in-hand with the curriculum coaches and the principals and assistant principals," May said.
Most of the physical transformation of the school buildings will happen in the summer.
Brown's Ferry is getting an amphitheater for performances, Carvers Bay Middle is getting an outdoor classroom, all three elementary schools are getting playground enhancements, and new furniture will be arriving for classrooms.
May has heard feedback that people are interested in the program, which is funded through a five-year, $14.9 million grant from the U.S. Department of Education.
"I think great things are happening. The one thing everyone needs to keep in mind is it's not going to be perfect year one, day one," she said. "This is a marathon; it's not a sprint. It's going to build over time and it will get better over time."
The application for the magnet school program will be on the district's website starting April 3. There are no academic or GPA requirements or tests to pass to be accepted. If more students apply for a school than there is room for, a lottery system will be used.
The deadline to apply is April 28.
That gives the district time to adjust staffing levels and bus schedules before the first day of school on Aug. 3.
The district is hosting a drop-in information fair about the magnet program on April 3 from 5:30 to 7 p.m. at the J.B. Beck Administration Building.
Representatives from the five schools, and district staff, will be on hand to talk to parents and students.
There will also be computers available for parents or guardians to fill out a magnet program application for their children.