District to post own data as cases rise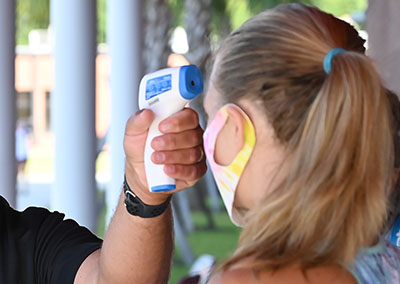 Monitoring temperatures at Waccamaw High.
The Georgetown County School District will begin releasing its own COVID-19 infection numbers in the next couple of weeks.
"Like a lot of other districts, we've just decided we need to put up our own," said Alan Walters, the district's director of safety. "We're working out the logistics of how that's going to look, how that's going to happen."
The move comes amid complaints about the state Department of Health and Environmental Control website. In some instances, schools are still listed as having cases even though the information dates to August. In others, schools that currently have cases are not listed.
"Once you get on that list, apparently there's no way to get off it," Walters said. "People look at that and they just see a particular school is still on the list, and they don't dig into the details to see that it's not a current problem, it's an old problem."
Seven Georgetown County schools have cases of COVID-19, according to the most recent DHEC report, released last week. Waccamaw Elementary, McDonald Elementary, Maryville Elementary and Rosemary Middle, have cases among faculty. Waccamaw High and Georgetown High have cases among students. Andrews Elementary has cases among both.
Parents at Waccamaw Intermediate and Kensington Elementary got letters from the district informing them that someone had tested positive, but neither school is listed as having a case on the DHEC website.
The district has four COVID-19 letters for parents: a general one if there's a case at a school; one if someone was infected in a student's classroom; one if a child was exposed to the virus on a bus; and one that recommends that a child quarantine.
If a child has had close contact with the infected person, parents will also get a phone call about contact tracing from the district office, and possibly DHEC.
"We don't identify who that person is, whether it's a student or a teacher, for confidentiality sake, but for them to be aware that someone has tested positive so they can monitor for any symptoms that they might develop," Superintendent Keith Price said.
Federal law and district policy prevent the names of infected persons from being made public.
"We've had people who have gone on social media or outlets and identified themselves. They can do that, but it's not something that we can do," Walters said. "The whole point of having the contact tracing is you can contact people who need to be contacted without just throwing the person's identity out for everybody to know."
Walters said if a student or teacher is absent from school, some people assume it's due to COVID-19. That's simply not true, he added.
"What we're getting a lot is rumors and speculation from people that just because somebody is absent they must be positive," Walters said. "A lot of times, they may be in quarantine and a lot of times they're sick with something else. We're starting to see flu popping up. I think people just rush to judgment if somebody's been out for more than a day."
Last week, the district extended its hybrid phase through Oct. 23. Price will announce tomorrow which phase the district will be in for the week that begins Oct. 26.
He said there is no magic number that would force schools to close.
"If it got to a point where it started to spread rapidly and DHEC says we have a problem, then we could possibly shut down a class and move them back to remote, or a hallway and move that hallway back to remote, or the entire school and move it back to remote," Price said.