District tries to chart course between conflicting mandates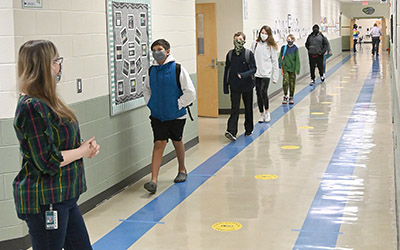 Masks and social distancing marked the reopening of schools. The state no longer allows mask mandates in schools.
The legislature and Gov. Henry McMaster have spoken: school districts cannot use funds to require masks be worn inside any education facilities, nor can mask policies be enforced or even announced.
The legislature included the proviso in this year's budget, which was signed by the governor and went into effect July 1.
A district could lose state funding if it goes against the proviso, according to Alan Walters, director of safety for the Georgetown County School District.
Walters believes the district can encourage people to wear masks and even provide masks to people who want them.
"That's about as far as we can go," he said.
Walters is working with district staff on a tentative reopening plan to present to the school board on Tuesday. A vote on a reopening plan is not expected until the board meeting on Aug. 3.
Even after the board approves a plan, Walters said it could still change before students return to school on Aug. 18.
The district is trying to figure out how the budget proviso affects school buses, which
are covered by President Biden's executive order requiring masks to be worn on public transportation. The state Department of Education announced last week that it had lifted its requirement of masks on school buses.
"It's a really difficult path to walk," Walters said. "We're trying to thread our way through this."
The Centers for Disease Control and Prevention released updated guidelines for schools which include: masks for unvaccinated students age 2 and older; 3 feet of social distancing between unvaccinated students inside school buildings; and masks for everyone if 3 feet of social distancing is not possible.
The CDC has removed the use of plexiglass from its guidelinesh. However, the state Department of Health and Environmental Control still recommends plexiglass in conjunction with 3 feet of social distancing
"That hasn't been reconciled yet," Walters said. He expects the district to keep some plexiglass for students or staff who want to continue to use it.
As of Wednesday, there were 325 new COVID-19 cases in the state, including three in Georgetown County. Horry County leads the state in new cases with 40.
Dr. Brannon Traxler, DHEC's public health director, said the number of people hospitalized due to COVID-19 has more than tripled in the last three weeks. The "overwhelming majority" of the people recently diagnosed with the coronavirus were not vaccinated, she added.
"Unvaccinated people are fueling the pandemic, especially unvaccinated young people," Traxler said.