District will restore time cut from school day in pandemic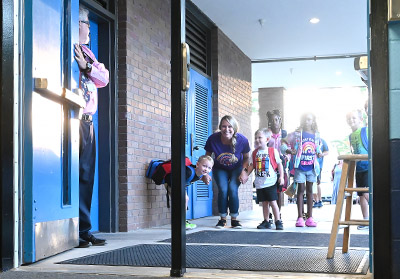 Elementary schools will get 15 minutes returned to their day when doors open in August.
One of the last changes caused by the pandemic will be gone when the new school year starts in August.
Fifteen minutes of instructional time is being restored at all the district's elementary schools and Waccamaw Intermediate School.
"It was something that our principals brought up. It was an unanimous request," Superintendent Keith Price said. "We've gotten several comments from some of our parents groups asking to restore that time as well. We felt like it was a good opportunity at the right time."
Elementary school hours will be from 7:30 a.m. to 2:15 p.m. Hours at the intermediate school will be from 7:30 a.m. to 2:30 p.m.
The extended time equals an extra 45 hours of instruction over the 180 days of school.
"I've done some surveying around to other districts and the amount of time that elementary students are spending in school was less in Georgetown County than anywhere else I found," Price said. "There's still many who keep their elementary students in school longer each day than what we will just by adding 15 minutes, but it is definitely, I believe, a step in the right direction."
The district shortened the amount of instructional time when schools reopened on a modified schedule during the pandemic. The decision was made because buses had to be cleaned several times a day to comply with state Department of Health and Environmental Control safety protocols.
"This is just restoring the original time we had prior to COVID," Price said.
Earlier this year, the state mandated that all teachers in grades K-5 get 30 minutes of time off every day they work.
Lindsay Ann Thompson, the district's attorney, said the expansion of the school day has nothing to do with the mandatory "unencumbered" time.
Instructional hours for middle and high schools are not changing.