District's newest varsity squad finds value in teamwork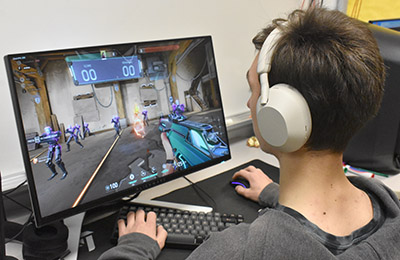 The team wrapped up its inaugural season this week.
In almost all high school sports, an athlete has to be good with their hands.
That is especially true for the Georgetown County School District's newest varsity squad: the esports team.
Twelve high school students from across the county play video games, and compete against each other, and in tournaments.
"I've always loved video games, and I saw it was going to become a thing for the high schools … and I was like, oh, I'll go ahead and try out for it and see what I can get," said Jacob Ludwik, a sophomore at Waccamaw High. "There's not many people at … Waccamaw High School that play video games. At least that I know. It feels really good to be around people that I know."
"It's just hanging out with people playing games," said Brody Heineck, a sophomore at Waccamaw High. "How could that not be fun? I thought it would be fun, but I think it's more fun that I thought, definitely."
Georgetown is one of more than 3,400 districts and individual schools in the High School Esports League, which was founded in 2012. The league hosts games and tournaments on its website.
The district decided to start an esports team in the spring in response to so many extracurricular activities being either limited or canceled during the pandemic.
"We used some of our COVID relief funds to help create a gaming lab at J.B. Beck where our esports athletes from our four high schools could come together as one team," Superintendent Keith Price said. "E-sports is a growing trend around the country where students are learning new ways to be teammates and build collegiality."
Students applied to be on the team and were vetted before being chosen to make sure there weren't discipline issues or other problems. Permission also had to be given from a parent or guardian.
Teamwork is a major component in esports, according to Paul Morris, Georgetown's coach. In many of the games, the Georgetown students compete together, wearing headsets to communicate with each other, and taking instruction from a captain who coordinates their strategy.
"It's like football. If somebody's out of place, the play doesn't work," said Morris, who chairs the English department at Andrews High. "They have to respond in the moment."
"You actually have to talk. You have to communicate a lot. You have to be awake," Ludwik said. "You can't just be sitting there, slumped, not playing the game to your full capabilities. You have to try."
"I need to get my mind in the right set," said Korbin Graham, a freshman at Andrews High School. "You've got to be a little more serious about it. You don't want to mess up."
"You have to do better because you're being motivated by the people around you who are depending on you," Heineck said. "It feels good."
Georgetown competes in games such as "Minecraft," "Fortnite," "Rainbow Six: Siege," "CS:Go," "Rocket League," "Valorant," "Counter Strike: Global Defensive," "Halo Infinite," "Brawlhalla," "Overwatch 2" and chess.
As the season, which started in September, was winding down this week, the team competed in "Valorant" and "Brawlhalla" tournaments.
On Monday, the "Valorant" tournament was scheduled to start at 5 p.m. Morris noticed that not only was the other team missing one player, two other players were not listed on its roster. It took about 40 minutes of contact with the esports league help desk to get the problem straightened out and the correct players logged in.
"I didn't think, as a coach, the majority of my time would be spent on customer support/tech support," Morris said.
Horry and Charleston counties have teams, but Georgetown also competes against students from across the country.
The Florence 1 School District recently opened an esports arena, which it sometimes rents out for tournaments. The facility has 12 gaming stations, TV monitors that broadcast the games, and seating for 40 spectators. The team that handles the live stream also provides commentary.
"It is kind of like an armchair sport for a lot of people," Morris said. "A lot of people watch other people play it at a skill level they can't play it at because they enjoy the competition of the high tier skill levels."
If interest in the esports grows, Georgetown may consider starting teams at the individual high schools.
"By doing it as a district esports team, we're kind of like the pilot program for trying to bring this to each school," Morris said. "I imagine the future of this for me would be coaching coaches."
"Many colleges and universities are creating or growing electronic gaming pathways for students," Price said. "They are also offering scholarships to students who wish to pursue such majors and/or compete as a college esport athlete. We have had a great first season with our team and are looking forward to adding more seasons in the years ahead."