Drawn out of her district, board member weighs options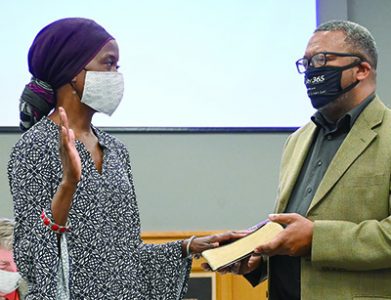 Lynne Ford was elected in 2020 and can serve until 2024 as the District 6 board member.
Now that Lynne Ford no longer lives in the district she represents on the Georgetown County School Board, she is weighing her options, including running for the seat in her new district.
"I'm really focused on serving out my term and doing to best job that I can do," Ford said.
Seven of the nine school board members are elected from districts that mirror those of Georgetown County Council. The redistricting map adopted by County Council last week moved Ford from District 6 to District 2.
The state Attorney General's Office has determined that school board members can can continue to hold office if they are affected by redistricting. Ford was elected in 2020 and can serve until 2024.
"Redistricting really puts an interesting spin on things for the future," Ford said.
Ford's home on Petigru Drive is across the street from District 6. The district maps are drawn using census blocks. Ford's census block contains 683 people.
The population between the largest and the smallest council district cannot vary more than 10 percent. Ford's census block represent 7.5 percent of the ideal population of a voting district.
"I really hated that we couldn't keep her in her district," said Steve Goggans, who represents Council District 6. He was also placed in District 2 by the redistricting, but he doesn't plan to seek re-election.
Ford's predicament is that the District 2 seat is on the ballot in November, as are the board's two at-large seats. Board Member Pat DeLeone, who lives in the Kensington neighborhood outside Georgetown, was drawn out of District 2. She doesn't plan to seek re-election.
District 2 used to include areas around Georgetown, but is now limited to the Waccamaw Neck from Winyah Bay to Waverly Road.
If Ford doesn't run for the District 2 seat in November, she will have to wait until 2026 when the District 2 and the at-large seats will be on the ballot again.
According the S.C. Election Commission, Ford does not have to resign from her seat to run for another seat on the board.
"In that scenario, that would be attractive," Ford said.
She would have to resign the District 6 seat before she could take office as the District 2 board member.
Board Member Mike Cafaro, who holds one of the two at-large seats, has said he will run for re-election.
There will be a special election on March 29 for the other at-large seat, which was held by Jim Dumm until he resigned at the end of last year. Three candidates – Scott DuBose, Kathy Ferdon-Anderson and Jon Tester – are running to finish Dumm's term.
Whoever wins in March will have to run for a full term in November.
"School board elections typically fly under the radar in the sense that not many people go out to vote," Ford said. "I'm hoping that maybe because of all the interest the pandemic has brought in the past couple of years regarding school board, and so many people have come out to a school board meeting, maybe that will make them decide to participate in the process."