Drug testing proposal causes talk (as intended)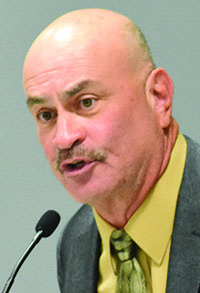 Michael Cafaro
Michael Cafaro was subject to random tests for drugs and alcohol as the Georgetown High principal because he was also licensed to drive a school bus. "I was able to brag to the staff and students that I was drug free," he said.
He proposed a way to get those bragging rights back after being sworn in this week as the newest member of the Georgetown County School Board. Cafaro suggested that board members and district staff also be subject to random drug and alcohol tests. If it's done for bus drivers, "what about the people making the big decisions? How come they're not drug tested?" he said.
Cafaro retired this year as a district administrator. He was elected this month to one of two at-large seats on the nine-member board. Drug tests, credit checks for board members and staff, and a salary study for the lowest paid district employees were topics proposed by Cafaro for discussion at this week's board meeting, the last one of the year.
The meeting was listed as a work session. During the campaign, "I kept talking about a work session is not a work session, generating ideas," Cafaro said. He thought the items would generate discussion.
He wasn't disappointed, even by those who questioned whether drug testing was legal, said drug tests were redundant, or pointed out that salaries aren't as low as some people think because they don't reflect benefits.
"I thought it was great," Cafaro said after the meeting. In the future, he hopes the board will be able to move from its linear meeting desk to a conference table to facilitate conversation.
Board members agreed with the goal of random drug and alcohol tests in principle. They also cited problems.
Pat DeLeone said the district would have to test all employees, not just the board and district-level staff. "I looked it up," she said.
"I'm for trying to figure out how we solve the drug problem," Richard Kerr said.
He used random drug tests when he ran a business. "I found out it wasn't a good idea," he said.
Not only are the tests expensive, "its causes a lot of morale issues in your organization. It also causes a lot of distrust," Kerr said.
Sarah Elliott said she was also concerned about the cost.
"It's a very, very tough legal issue," Arthur Lance said. He told Cafaro he was unable to find any statutory authority to let the board implement random testing.
Lance also said he couldn't find examples of where such tests had been successful.
Superintendent Randy Dozier said he would come up with some data for the board to review. "It's a worthwhile discussion that has some merit," he said.
On credit checks, Alan Walters, the district's safety director, said other background checks already used by the district generate information about people's ability to manage money.
On salaries, Cafaro cited job postings for a custodian at $19,231 and an instructional assistant at $15,886 a year. Those are well below the poverty level for a family of four, he said.
Dozier pointed out that family might have two wage earners. He also noted that the salary was based on a six-hour work day 180 days a year.
The district also pays benefits that aren't included in the salary figure. A $19,000 base salary for a bus driver works out to about $26,000 with benefits, Dozier said.
"A salary study certainly would be appropriate," he added. "We don't want to lose good people."
That study should extend to all district employees, Kerr said.
Board Member Randy Walker said the district should do all it can to raise employee pay.