Chief will close out 35 years at Midway Fire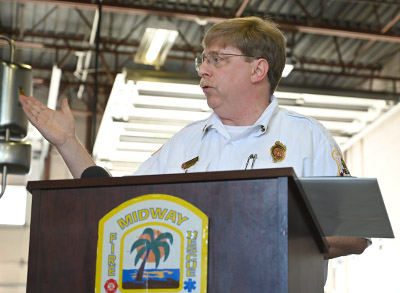 Chief Doug Eggiman joined Midway Fire and Rescue in 1986.
Midway Fire and Rescue Chief Doug Eggiman may be retiring at the end of the year, but he's not going anywhere.
Eggiman plans to stay on as a volunteer.
"You reach a point where you realize it's time for you and your family," Eggiman said. "I finally came to the conclusion that it's time to move on to whatever that next chapter might be."
Eggiman's plans were made public this week after he informed his senior staff.
It was an "emotional" day, he said.
"It's very surreal. It's very emotional at times," Eggiman said. "Honestly it's kind of a weird sense of relief."
Eggiman will join Midway's fire corps, a group of volunteers who help out with things like administrative work, public education, fire inspections, fire scene cleanups, and taking vehicles to and from repair shops.
"They're a huge, huge help," Eggiman said. "There's several things I could jump on board to help with."
Growing up in St. John, New Brunswick, Eggiman was a fanof the American television show "Emergency!", which followed the lives of firefighters in Los Angeles.
"For so many of us that helped push us in this path," Eggiman said.
However, America and a career in the food and beverage industry started calling.
Eggiman moved to the Waccamaw Neck in August 1985 to work as a night auditor/safety coordinator at Litchfield by the Sea,
"It was just a great opportunity in a growing area," he said. "I moved here and decided this was going to be my home. I couldn't imagine ever leaving here."
He decided to volunteer at Midway as a way to meet people. Eve Casselman was the Midway dispatcher who gave Eggiman an application. She later became his wife and they have three daughters: Stephanie, Tiffany and Victoria.
Eggiman spent one year as a volunteer while taking firefighting and EMT classes. On Oct. 1, 1986, he started as Midway's third paid firefighter.
In 1997, he became one of Midway's first battalion chiefs, and was promoted to assistant chief in July 2001.
"I can remember it was a big deal when we broke 300 calls," Eggiman said. "It would be highly unlikely that we're not going to break 4,000 calls this year."
When Dan Wetsel retired in April 2003, Eggiman was named interim chief. Two months later, the interim tag was removed.
"I've just been very blessed over the years," Eggiman said.
The biggest changes since he joined the department are the growth of the area and the increased focus on firefighters' safety, health and wellness and cancer prevention, Eggiman said.
"We've brought the line of duty deaths down dramatically from when I first started," he said.
What Eggiman will miss the most is the day-to-day interaction with the firefighters, which is why he wants to volunteer.
"It gives me the opportunity to still have that presence in the fire station and help the guys and gals out," he added.
Eggiman also believes fire companies need veterans around to pass on the history of the department to the new firefighters.
Retirement will be the second life-changing event for Eggiman in 2021. His first grandchild, Rosie, was born in July.
"Having a grandbaby changes your perspective," Eggiman said. "I'll be 59 in June and you realize you're not getting any younger. This job is 24/7 and I love it that way. I love what I do, but you have to realize there's life out there."
Eggiman is the second Georgetown County fire chief to retire in the last month.
Mack Reed, who led the county's rural fire department since 1989, stepped down on Sept. 30.
Brandon Ellis, the county's director of Emergency Services, said the county will hire the new chiefs in both fire districts.