Elections chairman quits over campaign sign dispute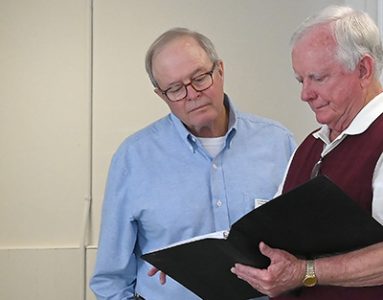 Dean Smith, left, with Billy Altman.
A neighborhood dispute over campaign signs led to the resignation of the chairman of the Georgetown County Board of Voter Registration and Elections.
Dean Smith, a member of the elections board for 15 years, resigned Wednesday, two days after Republican Party officials filed a complaint with the sheriff's office saying Smith helped his wife deface a Trump/Pence campaign sign. Rita Smith resigned as the training coordinator for the election commission and as a poll manager.
"We regret this lapse of judgment on our part. I do not want to be a distraction to the conduct of this very important election," Dean Smith said.
The Smiths live in Rosecrest, part of the Pawleys Landing neighborhood off the South Causeway. Rita is the president of the homeowners association.
Karol Anderson, who chairs the county Republican Party, and Jerry Rovner, who chairs the 7th District GOP committee, told a sheriff's office investigator that a Rosecrest resident complained to them that Trump/Pence signs kept disappearing from his yard. The resident, who they said wanted to remain anonymous, put up a deer camera in his yard.
The camera showed someone take one sign and damage another by writing "dump" over Trump's name on Oct. 4. Rovner and Anderson said they didn't recognize the person, so they put three photos on social media via GAB News.
The person who complained to the GOP officials told them he recognized the Smiths, Anderson said in an interview.
"I couldn't tell. I don't know people's cars," she said. "I just wanted to know who it was."
Over the next week, Anderson and Rovner said they got several calls identifying Rita Smith as the person in the photo. Only one caller wanted to be identified.
The sheriff's office has asked the State Law Enforcement Division to investigate. The Smiths said they have not been contacted by either agency.
"People with a lot of responsibility should have a lot of accountability," Anderson said.
Rita Smith said she did deface the sign, but she said the circumstances were different from those described to the sheriff's office.
She received a complaint from a property owner in September about a resident with a Trump flag on his garage. The restrictive covenants for Rosecrest don't allow yard signs other than temporary real estate signs and Smith and another board member asked the owner to take down the flag. He refused. He also yelled at them "in a political tirade," she said.
Smith said a Trump sign then appeared on common property at the Rosecrest entrance. She removed it. Another sign appeared.
"Our emotions got the better of us," Smith said.
"It was because we were angry with the other resident," Dean Smith said.
Rita Smith said the issue wasn't about the content of the sign, but the sign itself. She also said there have been no issues with actual signs in front of anyone's house in the neighborhood.
Smith declined to identify the neighbor with the flag, but said he told her last week "smile, you're on candid camera." She didn't understand what he was talking about until the photos showed up on social media.
Smith said she later learned that the deer camera was on the property of a third neighbor and had been placed there without that neighbor's permission. "They were shocked," she said.
One of the Smiths has been the HOA president eight of the 12 years they have lived in Rosecrest. Rita said she has asked people to take signs down for other candidates and in opposition to offshore drilling in the past.
"This really is a neighborhood issue, but I have to be squeaky clean," Dean Smith said.
People this week questioned whether Smith could lead the commission in conducting an impartial election. "People that called are concerned about the voting process with [the Smiths'] positions," Anderson said.
The disappearance of candidates' signs is an issue during every general election, but it seems to be worse this year, Anderson said.
"It's just ridiculous," she said. "It's more so now, this election, than what I can remember. It's just to the extreme."
The county Republican headquarters has distributed 600 Trump/Pence signs.
"If you drive around the county I don't think you can find 600," Anderson said. "They cost a lot of money. I don't care whose signs, it's a candidate's signs."
Debbie Smith, who chairs the county Democratic Party, said her candidates' signs have also been disappearing, mainly in the Pawleys Island area. She is not related to Dean and Rita Smith.
"We have county roads where we know we've put them out, and we have volunteers who put them out around their neighborhood in legitimate places, not on private property, and they've disappeared," Debbie Smith said. "That's not going to affect the campaign one way or another."
At the intersection of Waverly Road and Petigru Drive, signs for Democratic candidates have disappeared four times. A lone Lindsey Graham sign has never been removed.
"I imagine there are people with time on their hands to do that," Debbie Smith said. "I don't know why people even do it, but this is not new to this election. It's normal political shenanigans."
She has not filed a complaint with the sheriff's office.
Since the incident at Rosecrest became an issue on social media, the Dean and Rita Smith said they have received harassing messages and phone calls. They reported those to the sheriff's office, which placed their neighborhood on a patrol watch.
The elections board members are appointed by the governor on the recommendation of the county legislative delegation. Dean Smith will turn 72 next month. His term ends in December. He has been thinking about stepping down.
"I didn't want it to end like this," he said. "I've always prided myself that when I walk in that door I'm not a Republican or Democrat. I'm just an American and a Georgetown County citizen."