Elections New issues challenge school board candidates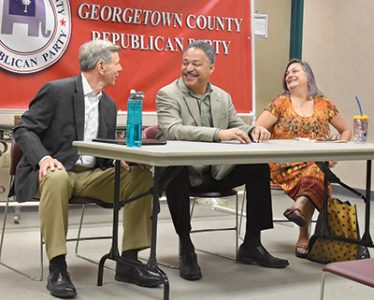 The candidates, from left, Scott DuBose, Jon Tester and Kathy Ferdon-Anderson.
Critical race theory occupied more time than any other topic at a forum in Georgetown last week for candidates in a nonpartisan school board election. It was hosted by the local chapter of the NAACP.
"CRT is not part of the GCSD curriculum, nor is part of our state curriculum. It's not in the standards," said Jon Tester. "But it can be viewed by people and misconstrued that it's being taught in classrooms. Some people say that it is and some people say that by abstaining from certain information, you are supporting CRT."
"Our teachers and our administrators, they're doing their best to teach the accurate history," said Kathy Ferdon-Anderson. "There is so much history, and when you're teaching high school U.S. history, which is a required course for graduation, in 90 days, they can't teach every minute of history."
Tester agreed.
"You need to teach history, in my opinion. It needs to be accurate," he said. "There's a lot of different viewpoints that are attached to history. We just need to be very careful when teaching it in our schools."
"I know a good bit of history," said Scott DuBose. "CRT is not history. CRT is hate."
After saying "the premise of CRT is that this country was founded on the backs of slaves," DuBose was heckled by several audience members who told him he didn't know what he was talking about.
DuBose went on the say CRT ignores the industrial revolution, the Civil War and the Underground Railroad.
Tester, DuBose and Ferdon-Anderson are running in the March 29 special election for a vacant at-large seat on the board.
DuBose, who has an engineering degree, worked for Exxon and retired as a senior vice president of a management consulting firm.
Ferdon-Anderson taught English and theater in the district for 33 years before retiring.
Tester, worked as a teacher, principal and assistant superintendent for academics and student services during his 32 years with the school district before retiring.
In response to a question about expanded pre-K programs, Tester and Ferdon-Anderson expressed their support.
Ferdon-Anderson suggested the district assign the "best and brightest" teachers to third grade and below.
"We've got to get those kids socially involved, get books in the homes, get them reading," she said. "If we grab them early, we can keep them through high school."
Tester, who was a teacher, assistant principal and principal at Waccamaw Elementary, said the district needs to do its research and not just throw money at programs.
"That's where it all begins. To me it's the most important thing," Tester said. "It's more than just academics. It's learning how to get along with one another and how to interact socially. Those are the building blocks."
DuBose said he supports good education at any level, but based on statistics, whatever the district is doing now is not working.
"Whatever we're trying to teach, our kids aren't getting it. We've got all these kids that can't do math," he added. "We need to be concentrating on teaching these kids to grow into productive adults so they can go out and get a good job, make a good living and raise a family. Whatever we can do in that vein I'm all for."
At the end of the forum, Marvin Neal, president of the county NAACP, questioned why CRT was even a topic for candidates for a board that oversees K-12 schools.
"I don't even know why we're discussing it," Neal said. "That is not a platform to run on. That is at the state and national level."
Neal urged people to concentrate on the issues affecting school children and the Georgetown County community.
"Get motivated, get educated and get activated," Neal said. "That's what we need to do."
The NAACP is hosting two more candidate forums: March 21 at the Northwest Recreation Center on Choppee Road, and March 24 at the Andrews Recreation Center. They start at 6 p.m.
Voters can check their registration, find the location of their polling place or request an absentee ballot at scvotes.org.