Emergency vehicles now get green lights on Highway 17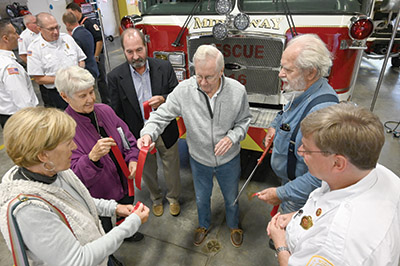 On hand for the launch of the system were, from left, Pat Gadek, Karen Yaniga, John Thomas, Gary Gadek, Tom Stickler and Doug Eggiman
It took nearly four years to get the green light from Georgetown County for a system that controls traffic signals for emergency vehicles. Now fire and rescue units are seeing nothing but green.
"We drive like we normally due, use the same caution. It's just that we see more green lights now," Midway Fire and Rescue Chief Doug Eggiman said.
The system, known as Opticom, began activating last month as the firm that owns it, Global Traffic Technologies, began installing equipment at 17 intersections between Georgetown Memorial Hospital and the Horry County line. There are 13 traffic signals along Highway 17 on Waccamaw Neck. The equipment was installed in 37 emergency vehicles starting in September.
The system was completed this week. It uses a GPS system to give fire trucks and ambulances priority at traffic signals. That allows traffic to flow ahead of the vehicles rather than scramble to get out of the way.
"It benefits the people out there driving," Eggiman said, recalling the look he has seen in drivers' eyes when an emergency vehicle comes up behind them with lights flashing and horns blaring.
The $1 million cost of the system was funded through surplus revenue collected from a capital projects sales tax that was in effect from 2015 to 2019. County Council Member John Thomas picked the project for funding.
Thomas said he was skeptical when the Opticom plan was first presented to the council for funding in 2017 and again in 2019.
"I'm hoping that we'll be able to see its effectiveness. Two years ago, it was difficult to see how it had improved things in the places where it was installed," he said.
The idea was hatched in the Pawleys Raw Bar during a trivia night. The restaurant is across Highway 17 from Beaumont Drive, where Midway has a fire station. While playing trivia, Karen Yaniga noticed that emergency vehicles had a hard time getting onto the highway.
Yaniga recruited three friends – Gary and Pat Gadek and Tom Stickler – to help look for a solution. They learned that the city of Sumter installed a signal pre-emption system in the 1960s. Eggiman told them about the Opticom system, but said it was hard to find the money to fund it.
The quartet pitched a plan to County Council to raise $650,000 to install Opticom county-wide by imposing a one-time $20 assessment on each of the 56,000 parcels of land in the county. The balance would be used to fund maintenance and operations over 10 years.
The council rejected the assessment, but said it would consider the project for its capital projects plan. It never made the list.
Yaniga gave credit to Thomas for earmarking his council district's share of the sales tax surplus to the project, which covers 10 years of operations. "That is the reason that it's up and running today," she said. "This is a landmark."
Global Traffic Technologies estimates that the system saves between 15 and 30 seconds at each intersection.
"I know it's a cliché, but in this business, time is brain cells for strokes. For heart attacks, time is heart muscle," Eggiman said.
For fires, the evolution of building materials and home furnishings continues to reduce time that firefighters have to respond to prevent disaster, he said.
Yaniga said safety was the goal when she started the effort five years ago. She is pleased with the result, which she has seen first hand.
"I watched one of the vehicles come toward the North Causeway," Yaniga said. "The light changed, the traffic flowed, no one had to stop and move, they just went on."