Researchers will measure sinking lands along with rising sea level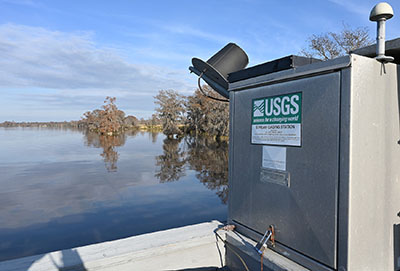 The water level at Hagley Landing is measured by a gauge at Heritage Plantation Marina.
A geologist at Coastal Carolina University didn't find much interest among local officials when he told them data suggests that sinking land is exacerbating the problems caused by rising seas. He got a better response from state archaeologists.
"There are many historic and prehistoric sites along our coast, and they realized that they are more and more under threat," said Till Hanebuth, an associate professor of marine science at Coastal Carolina.
He now has a grant that will fund research over the next four years into how sea level along the coast of Georgetown and Horry counties has changed both in the short term, which for a geologist means the last 200 years, and over thousands of years before that.
But there is a third component, "probably the most interesting and useful for our community," Hanebuth said. He wants to determine the rate at which land is sinking.
"We know from other regions the more you urbanize the more the land surface will sink," he said. "We just don't know what's going on here."
Hanebuth began working with Georgetown County in 2018 on a study of silting in the Georgetown harbor. The county has funds collected from a capital projects sales tax to spend on a port project.
The work led Hanebuth to historic data that showed that sea level at the lighthouse at the entrance to Winyah Bay had risen 21.6 inches since 1898. At Hagley Landing, data showed the average water level rose 15 inches since 1998. The increases locally are greater than the global average of sea level rise: 3 inches since 1993.
"For me, it was an eye-opener," he said.
The data gave credence to stories Hanebuth heard from locals who told him that "sunny day flooding" from ever-increasing tides had become worse in recent years. Hanebuth and two doctoral students hope to find out how much of the increase is caused by sinking land, a natural process known as subsidence.
"I'm super excited because I've always wanted to work on such a project," he said.
Hanebuth's work is a pilot for two others that will look at the middle and southern portions of the state for the archaeologists. They want to know how much of a threat sea level rise poses for their sites.
Working at Winyah Bay, Murrells Inlet and Little River, Hanebuth will be able to chart prehistoric sea level rise through core samples. Microscopic analysis of the cores will identify the remains of organisms. Similar work has been done at North Carolina's Outer Banks, he said, but the nature of soil differs from place to place.
"We need to know a little more about the underground geology," Hanebuth said.
To study the impact of present-day human activity, the researchers will drill holes to the bedrock in natural areas and areas under development. Sensors in the holes will measure the change in ground levels over time.
"We did a couple as a test," Hanebuth said. "Even within Georgetown city, we found very clear gradients."
Although sea level rise is a global issue, he hopes the project will help people understand that there are local factors at work.
"If we want to make a difference, we have to have an open mind," Hanebuth said. "Each of us contributes to rising water levels in our region."