Expo for county eighth-graders draws students from across region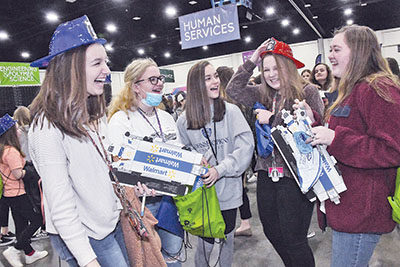 Waccamaw Middle School students Sophie Moschgat, Cambree Werther, Sarah Fortman, Lexi Crowe and Danni Maxwell get to wear a number of hats while exploring Career Expo 2019.
Eighth-grade classrooms in Georgetown County were empty this week as students headed to Myrtle Beach for a career expo.
Pathways 2 Possibilities, hosted by the Frances P. Bunnelle Foundation, brought scores of employers to the Myrtle Beach Convention Center to expose about 6,000 students from seven counties in the region to hundreds of job possibilities. The expo was split into 19 different career fields, including law enforcement, health science, education, finance, aerospace, marine science, and government.
Assistant principal Travis Klatka accompanied the Waccamaw Middle School students and said it was an awesome experience.
"It was a great turnout and job fair for our students," Klatka said. "It exposed them to a lot of different careers and technologies."
On the bus ride back to the school Klatka listened as the students talked about different careers.
"They were really thinking," Klatka said. "They saw things there that they didn't know about."
Waccamaw Middle teachers will now follow up with career counseling and use some of the careers the students learned about at the expo in their curriculum.
Liz Intrieri took 24 students from the Coastal Montessori Charter School.
"I like that it was very localized," Intrieri said. "The point of this was to show what great careers there are around here."
Coastal Montessori eighth-graders are required to complete an internship that they set up themselves, and Intrieri said the expo was a good chance for the students to start on that.
When they returned to the school Intrieri had the students write letters to the organizers, and she said they all ranked the expo 8 out of 10 or above.
Almost every facet of Georgetown County government was represented, from law enforcement to administration to public works.
Beth Goodale, director of Georgetown County Parks and Recreation, brought a veteran employee, Joey Manigault, to talk to the kids, and a young man who is the newest member of the department, T.J. Myers, to shoot darts and play corn hole with the kids.
"We try to bring a little bit of everything that we do, but there's so many things that we do, it was more about bringing the picture displays and a little bit of stuff," Goodale said.
Like many of the participants, Goodale had candy for the students. Other participants gave away bracelets, koozies and plastic fire helmets.
Ashley Goheen, an interior designer for e3 Studio in Myrtle Beach, brought some of the tools of her trade like fabrics, countertops and design boards, and supplies for the kids to paint with.
"We're hoping by the end of the day we'll create a mural and it will be something fun to have," she said.
Jeremy Alford from LS3P Associates in Myrtle Beach brought virtual reality goggles for the kids to try.
"We wanted to present some sort of newer technologies we're using," Alford said. "We made a little digital world where they can play with Legos and put other things together and then put the headset on and experience it. You can make it, and then get inside it."
The two-day event was attended by about 6,000 middle-school students from as near as Georgetown and Horry counties, and as far away as Florence.
For more information go to pathways2possibilities.org.