Face mask dispute goes viral as hospital prepares for surge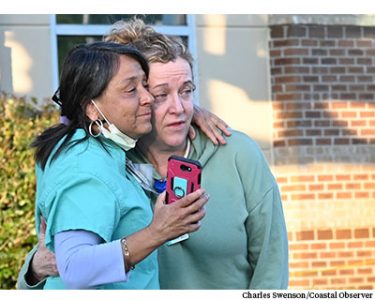 Staff at Waccamaw Community Hospital during a prayer vigil last week.
As they prepared for a surge of coronavirus patients, officials at Tidelands Health dealt with a surge of criticism that they weren't protecting their staff adequately.
The husband of a nurse at Waccamaw Community Hospital posted Saturday on Facebook that his wife was exposed to the coronavirus after she was told not to wear personal protective equipment unless dealing with a patient who was "under investigation" for the coronavirus.
"There's no need to waste PPE on them," Troy Perry said his wife, Ambrosia, was told.
More than 11,000 people commented on the post and it was shared 20,000 times. Perry said he and his wife have gotten messages from nurses all over the country who tell the same story.
"It just goes to show that I'm not the only one who feels that way," he added.
Ambrosia Perry was released from the hospital Sunday and is recovering at home. She had three COVID-19 tests, and all were negative.
Bruce Bailey, president and CEO of Tidelands Health, said he was pleased that she "came through it and is home and recovering well."
Bailey and Dr. Gerald Harmon, vice president of medical affairs, both said Tidelands follows state and federal PPE guidelines.
"Having something like that go viral like it did, and not be as accurate as we would have hoped it would have been in portraying the situation at hand, it wasn't helpful," Bailey said. "One of the biggest challenges is having a strong, consistent scientifically-based message to our employees about what the proper use of PPE in the face of a pandemic."
Perry said he stands by his claims.
Tidelands is preparing for a surge of coronavirus patients that is being predicted by state and federal officials.
"We're not at the peak, we're not at the downside at the state or local level of COVID positive patients right now," Harmon said. "So we're anticipating that we'll need more [PPE]. But we don't anticipate needing more than what we have. We have strict rules about all this and we're updating them literally daily depending on the latest available scientific data."
Bailey said the challenge is to project how much equipment is needed, when it will be needed and making sure they can get their hands on it.
"We have the modeling and we feel very good about what our supply chain has done to provide the PPE that our employees need to protect themselves and care for the patients when they're in need," Bailey said. "We feel very good about where we're at relative to the projections."
Having enough beds for coronavirus patients also goes into planning for the surge. Tidelands uses an algorithm to tell them when they need to free up beds.
"That's a moving number but we know we can increase the capacity as we need to," Bailey said.
Tidelands has tested more than 1,000 people for the coronavirus at its two hospitals and four drive-through sites in the county.
Results sometimes took more than a week when testing first started. Turnaround time is now just a matter of days.
"There was a time when those results were delayed much beyond what we would have liked and the patients would have liked and staff would have liked," Bailey said. "They've done a great job in getting tests turned around."
"I have an increased level of confidence in our turnaround time," Harmon said. "Some of my patients it took 10 or more days for results and that was unacceptable."
Harmon expects a coronavirus vaccine will be available within a year, but probably not in time for the flu season this fall.
"We're hoping that we don't see that second wave but we have to have a contingency for that too," he added.
Hospitals and health care systems across the country have been cutting staff because elective procedures are on hold while resources are shifted to battling the coronavirus.
Bailey said Tidelands is evaluating its options.
"We face those same challenges so we're working through a plan now to, first and foremost, make sure we're able to meet the community need for health care, whether it be the surge or routine care that they need," Bailey said. "We will have to make some adjustments to reflect the fact that our volumes right now are down in preparation for what's coming in the surge."
Bailey and Harmon said social distancing is the key to the COVID-19 pandemic.
"This is serious. It requires sacrifice," Harmon said. "This is a serious disease that has consequences."