Fall in virus numbers raises hopes for return of kids to classrooms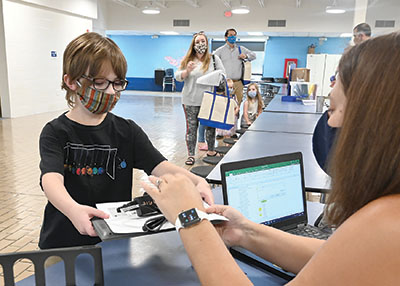 Henry Kwiatkowski picks up his first Chromebook from Sharon McLean at Waccamaw Elementary. Henry will start second grade virtually.
The Georgetown County School District is on the verge of moving into its hybrid phase, which would put students back in classrooms by the end of the month.
"We are all eagerly awaiting that time when we get the all clear to move into our hybrid phase," Superintendent Keith Price said. "We want to do it soon, but we want to do it when it's safe to do so."
The district makes its decisions based on the weekly numbers from the state Department of Health and Environmental Control. The numbers are closing in on where they need to be for schools to reopen.
The county's incident rate, which is based on 100,000 people, needs to be below 200. This week it is 236. One month ago it was 517.
The county's percent positive rate, which needs to be 10 percent or less, is at 20. It was at 33 the week of Aug. 10.
"We've seen significant improvements the past four weeks," Price said. "I want our community to know we are watching this, we are being reactive to it."
Alan Walters, the district's executive director of safety, told the school board this week that the trend is "heartening."
The earliest the district would move into the hybrid phase would be the week of Sept. 21. Price said the district will always try to give parents two weeks notice before changing phases.
Horry County schools will reopen on Tuesday in a hybrid phase, with students back in class two days a week.
"There's special magic that comes when you're able to connect with someone face to face," Price said. "Not necessarily hand to hand right now, but certainly face to face."
The district had originally planned to announce phases in two-week increments, but got permission from the state to make decisions one week at a time.
"I think it's a fine idea," School Board Chairman Jim Dumm said.
The decision to move into hybrid does not affect students enrolled in the district's virtual program, which will continue until at least the end of the first semester in January.
The final enrollment number for the program is 3,407 students. Another 65 students are on waiting list.
Genia Smith, the district's executive director of innovations and special programs, told the board the average class size of 28 students is a little higher than the district was hoping for. Officials would have preferred 25 students in each class.
The second and eighth grades have the largest number of students.
"Everybody that I've talked to, regardless if it's a parent, a student, or a teacher, everyone is so ready to get back to school," Price said. "Whatever shape or form it's in, everyone is ready to engage again."
In other business, the board authorized a "tax anticipation note," not to exceed $3 million, in case of a shortfall in tax payments.
The district's 2020-21 budget is currently in flux because it does not know how much funding it will receive from the state. There are also concerns that some county residents may not be able to pay their taxes this year because they've been out of work during the pandemic.
The last time the district took this step was in 2009, said Lisa Johnson, the finance director.
The district has instituted a hiring freeze for non-essential jobs.
"We're being very careful," Johnson said.