Familiar face in the running for county administrator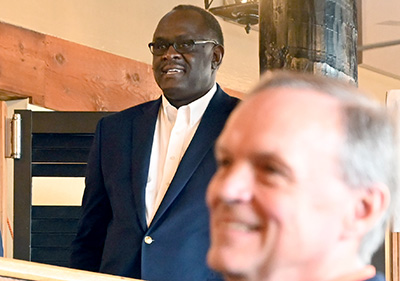 Ray Funnye at a retirement party for Sel Hemingway.
A Georgetown County official who was passed over in the first search for a new administrator is a finalist for the job once more. Ray Funnye, the director of Public Services, was among three candidates interviewed Friday by County Council.
The council reopened its search in October after its first choice to replace Sel Hemingway as administrator turned down the offer, which came on a 4-3 vote. Funnye and Brian Tucker, the county Economic Development director, were also finalists. The council voted, also 4-3, to hire a search firm and start over.
The council was due to interview four candidates, but one, David Cox of Wise, Va., was unable to attend due to illness. Before going into a closed-door executive session Friday morning, Council Chairman John Thomas said the council could decide to interview Cox by phone.
The other candidates are:
Angela Christian, town manager of Newport, N.C., from 2014 to July 2019. She was chief operations officer for Onslow County, N.C., from 2007 to 2013. Christian is a graduate of Georgia Southern University and earned at master's degree in public administration from the University of Tennessee at Knoxville.
Mandi Cody, city manager in Metter, Ga., from 2016 to July 2019. She previously worked for the city of Statesboro, Ga., as the planning director. Cody has a law degree from Mercer University.
Cox, a CPA in Wise. He was the finance director for Wise County from 2009 until 2018 and served eight months as interim administrator. He is also co owner of a restaurant, Barberitos Southwestern Grille & Cantina. Wise is a graduate of the University of Virginia at Wise and earned an MBA from Virginia Tech.
Funnye has been director of Public Services for Georgetown County since 2002. He started working for the county in 1994 as a plans examiner and then became director of Public Works.
He is a graduate of Savannah State University and earned a master's degree in management from Webster University.
Friday was also Hemingway's last day on the job after 12 years. Wesley Bryant, who served 13 years as county attorney, was named interim administrator under a contract with Waccamaw Regional Council of Governments, where he is now director of government services.