Family firm in hands of new family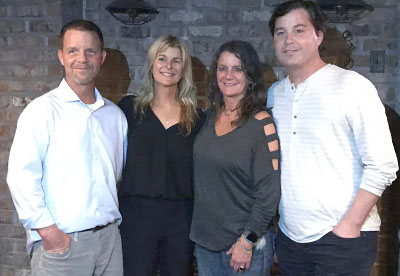 Doc Lachicotte knew his own children wouldn't be able to take over the real estate business that bears his name. But he was still able to pass it on to the next generation with the sale earlier this year to the children of one of his long-time development partners.
"Generational, that's what this company is," said Christy Cooper Whitlock, who now owns the Lachicotte Co. with her siblings, Gina, Chuck and Gary Cooper. "He had the opportunity to sell this company to other people."
"They're smart. They'll do a good job with it," Lachicotte said. "I'll be around if they have any questions."
Lachicotte grew up at Waverly Plantation, where his family once had a rice mill. He started out in real estate in Myrtle Beach in the 1950s before coming home to run the Hammock Shops and the hammock company that his family started. He opened his own real estate office with the late Louis B. "Bumpy" Thompson and Sam McFadden.
The Coopers have been partners with Lachicotte since 2012 with the merger of their firm Vintage Estates. Their father, Charles Cooper, who founded the pharmacy at Georgetown Memorial Hospital and grew it into a regional health services business, was a partner with Lachicotte in developing Wachesaw Plantation in the 1980s. "His hobby was buying real estate," Whitlock said. She followed her father into the pharmacy business, Chuck was a landscaper, Gina was a teacher and Gary worked in health care administration. Now they all have their real estate license.
"Dad had a prominent position. It was a door-opener, for sure, but all it does is open doors. If you don't deliver, people don't care," Chuck Cooper said.
They sold the Wee Tee Plantation tract in Williamsburg County where their father grew up to finance the purchase. "It's tying in the work ethic, the belief system and the integrity and character and building on the foundation that Wee Tee brought us," Whitlock said. "We're completely invested, sleeves rolled up and ready to go to work."
The siblings are also partners in 18 acres along Highway 17 from Waverly Road to Professional Lane that includes Waverly Place, the Island Shops and Downtown Pawleys. They see a synergy between their commercial real estate holdings and their real estate sales and rental company across the highway.
"We live the lifestyle and we're selling the lifestyle," Whitlock said. "Our interest is in seeing Pawleys stay like it is."
"When you're selling this concept, it would be deceiving to be selling them stuff on the island and then being out here doing stuff on our commercial site that's inconsistent."
The real estate company focuses on the luxury market, but the partners said they understand that luxury in Pawleys Island might not look the same to someone who is buying an island in the Caribbean.
Through the 2012 merger with Vintage Estates, the Lachicotte Co. became an affiliate of Christie's International, which also focuses on the luxury market.
When Cooper got into real estate on the brink of the Great Recession, he realized that value was a viable option in a soft market. "A real estate company has no inherent value," he said. "You're only as good as your last sale."
Resort real estate companies have the benefit of vacation rentals, and the Coopers said they plan to "raise the bar" on that portion of their business at the Lachicotte Co. "Really step up the game," Whitlock said.
"When people leave on July Fourth, they're booking their vacation for next year. And they have for 50 years," Cooper said.
They plan to develop a concierge service to help with grocery shopping, golf bookings and other arrangements. They also want to upgrade the quality of linens provided to renters.
"We've got to put heads in beds," Cooper said. "You do that with better service."
And there again, the family's commercial projects offer an opportunity to provide services to renters while also boosting the business for their tenants.
To that end, they are working to redevelop the commercial properties that they have named Downtown Pawleys into an authentic Pawleys downtown. Cooper would like change the name of Professional Lane to Main Street. "If you look at a traditional Main Street, it has offices, shops and restaurants," he said.
On the commercial side, the Lachicotte Co. is an affiliate of New American International, a global commercial brokerage.
The change in ownership won't bring a change in staffing, the Coopers said. "We have a strong team of sales people," Whitlock said.
The most immediate change will be the redesign of the company sign to get rid of the digital reader board. "I hate it," Cooper said. "We're not changing the name of the company," Cooper added. The name is part of the legacy.
Lachicotte will still come into the office, to offer advice if asked, but he said "I'm still trying to sell a few lots."