Fentanyl crisis defies traditional solutions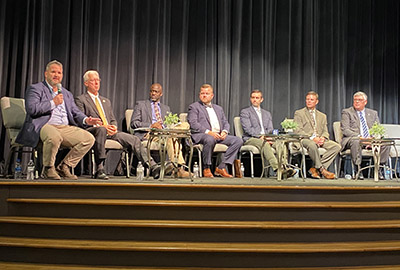 Bryan Braddock, left, a former addict, speaks at the sheriff's forum on fentanyl.
From 2016 to 2021, the number of opioid overdose calls the Georgetown County Sheriff's Office from 88 to 169.
"We are facing something in this country, and in the community, that has never been seen before," Sheriff Carter Weaver said. "And if it is not a true fight against good and evil, I don't know what is."
Weaver hosted a forum about the opioid crisis this week at the Pawleys Island Community Church.
The number of calls deputies responded to that involved opioids also increased from 89 in 2016 to 279 in 2021, as did the number of opioid-related arrests: from 97 in 2016 to 288 in 2021.
Arrests are part of the solution, but not a cure, Weaver said.
"We can't arrest our way out of it," Weaver added. "We've got to do our job."
Coroner Chase Ridgeway said the county has more overdose deaths than homicides, suicides and vehicle accidents.
There have been 30 overdose-related deaths already this year. Twenty-two of the victims – who ranged in age from 18 to 80 – had fentanyl in their system, six had methamphetamine and four had heroin. Several had consumed more than one drug before they died.
"The demographics are all over the place," Ridgeway said. "These drugs, they don't discriminate – age, sex, race, social status – none of that matters."
The number of deaths could have been higher if not for Narcan, which is used to reverse the effects of an opioid overdose.
Weaver called it a "Christ-like" drug.
"We have stood there and watched people come back to life," he said. "They've overdosed … to me, they're dead. We give them … a blast of Narcan, and they recover from it."
Deputies have administered Narcan more 100 times in the last three years. Some people have been treated multiple times.
Division Chief Matt Smittle, who oversees training and special operations for Midway Fire and Rescue, knows about treating the same patients repeatedly.
Midway paramedics used to visit one house almost nightly for overdoses, and revive the same two people. Eventually, those patients died.
"I know that's crazy, but that's exactly where we're at in the community," Smittle said.
Midway Chief Brent McClellan said firefighters use a "a new caution" when responding to calls where opioids might be involved. However, he knows one of his staff could unknowingly come into contact with a drug while treating a patient.
"Our gal's and guy's safety on the field every day worries me," he said.
Sixteen years ago, Bryan Braddock was a 33-year-old husband and father of three. He was also addicted to opioids and crack cocaine.
"My house was in foreclosure," Braddock said. "I would steal my kids fundraiser money to buy drugs. I would steal my mom's money."
One night, while searching a floor mat from his vehicle to see if he had dropped any crack, he prayed. "I said the simplest of prayers," Braddock said. "I said 'Lord I can't do it anymore.'"
Braddock got clean and is now CEO of House of Hope of the Pee Dee in Florence, which ministers to the homeless and people struggling with addiction. He was also elected to Florence City Council.
"I love telling people my story because [it] is one you don't hear much," Braddock said. "It's the exception, not the rule."
Weaver said what he needs is more community support, an increase in local treatment programs, and stronger sentences when people are arrested.
"These people are murderers, that are selling these drugs, and they need to be treated accordingly," he said. "We need a buy-in from the judicial system before they murder people. Quit letting them out with a slap on the wrist."
There is another forum today at 6:30 p.m. at First Baptist Church in Georgetown.