Finance background key to council's pick of administrator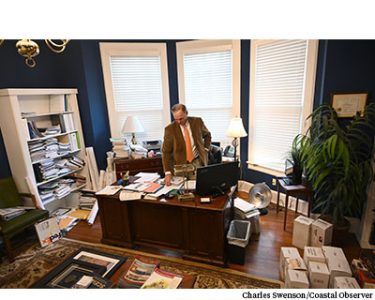 Sel Hemingway, who retired at the end of February, was also a CPA.
County Council members cited experience in government finance for their choice of a new county administrator.
Angela Christian, who has worked 23 years in local government, was the unanimous choice to replace Sel Hemingway, who retired Feb. 29. His departure came as the county started work on a new capital-projects sales tax that will come up for approval by voters in November. The county is also in the midst of drafting its annual budget and hopes to avoid drawing on reserves to funds a shortfall, as its has done the past two years.
"She has a very strong financial background," Council Member Raymond Newton said. "She has spent her entire career working up to this position."
Newton is a retired human resources director for UPS. He checked Christian's references even though the county hired a search firm to recruit and vet the candidates.
"Elected officials gave her very good references," Newton said.
Council Member Steve Goggans, who made the motion to hire Christian from a field of three finalists, also pointed to Christian's financial background and her work as deputy manager of Onslow County, N.C.
"She's done virtually every job and that county is a lot larger than Georgetown," Goggans said.
The 7-0 vote to offer the job to Christian came 288 days and two searches after Hemingway announced his plans to retire at the end of 2019. After an in-house search, the council offered the job to the administrator of Abbeville County on a 4-3 vote. The offer was declined.
The council reopened the search using Slavin Management Consultants of Atlanta to recruit candidates. The council narrowed a list of seven qualified applicants to four. One of those, David Cox of Wise, Va., withdrew before an interview last week.
The finalists also included Ray Funnye, the county's Public Services director, who was also a finalist in the first round.
Council Chairman John Thomas supported Funnye for the administrator's job. He said that, because of the delay in replacing Hemingway, he felt Funnye's institutional knowledge was an advantage.
But Thomas agreed that Christian's career makes her "a great fit."
"She's got a good base of experience," he added.
Christian was city manager of Newport, N.C., for five years. She stepped down to take care of her parents. Before that she worked for six years for Onslow County in Jacksonville, N.C., which includes the Marine Corps base at Camp Lejeune. Onslow has a population of 180,000 and a budget of $225 million.
Christian worked for the city of Columbus, Ga., for 10 years, rising from revenue manager to finance director.
Thomas said her work developing budgets and capital improvement plans stood out to the council members.
"She's a very likable person," Newton added. "Such a positive person."
Wesley Bryant, the county's interim administrator, and Walt Ackerman, the human resources director, will negotiate a compensation package with Christian. Hemingway, who was administrator for 12 years, earned $170,000 a year.