Fire chief stepping down after 40-year career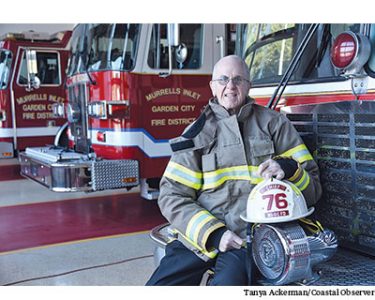 Murrells Inlet-Garden City Fire Chief Norman Knight will take off his fire gear for the last time on Jan. 24.
Responding to his first structure fire as a rookie firefighter in 1979, Norman Knight was so nervous that his leg was shaking and banging on the steering wheel of the fire truck.
When he arrived at the scene and tried to walk, he thought he had broken his kneecap.
Forty years later the adrenaline of a call has not diminished.
"Even now, as I sit here, when the tones go out and I hear it, it can be anything, I still get that little nervousness because just as many firefighters are killed or injured going to and from calls as they are at calls," Knight said.
Knight will retire as chief of the Murrells Inlet-Garden City Fire Department on Jan. 24.
"It's been good ride. I've had enjoyment, I've had some frustration, but for the most part, when I think about this place and this job, it will be more smiles than it will be frowns," Knight said. "I've reached the pinnacle of my profession. I could keep doing it but I've got some other things in mind that I want to do, like raise grandchildren, fish, play golf, and do the proverbial 'honey-do' projects around the house."
Knight was hired by Murrells Inlet-Garden City Fire in October 2000 after the death of Chief Terry Smith. When he arrived, the department had two stations with five firefighters working on each shift and ran about 1,900 calls a year.
The department now has four stations with 18 firefighters working on each shift and ran about 6,200 calls last year.
"The biggest thing that has increased for us is doing the medical calls, running the ambulance," Knight said.
The department added an ambulance service when the Murrells Inlet-Garden City Rescue Squad folded. Some of the department's firefighters had already been working as paramedics.
"It was a natural progression for us," Knight said.
Murrells Inlet-Garden City Fire is part of a state special-purpose tax district that stretches from just north of Brookgreen Gardens to the border with Surfside Beach and from the Waccamaw River to the Atlantic Ocean. Sixty percent of its coverage area is in Horry County and 40 percent is in Georgetown County.
Knight said the basic footprint of the district has stayed the same since he's been chief, there's just less open space in it, such as the areas around the Blackmoor and Prince Creek communities off Highway 707 in Horry.
Working for a fire district, Knight said, is different than being with a city or county department where you're dealing with a government and you're just "one pot on the stove [and] constantly being shuffled. Your pot is not ever on the front burner all the time."
Although, he admitted, dealing with two county councils can be a challenge.
The fire district has a six-person board, which means the chief has fewer people to answer to.
"The sheer numbers of the people you actually consider to be your boss is less," Knight said.
The fire district held a referendum last year to raise its millage rate from 14 to 19 mills to pay for a fourth medic unit and six new paramedics. The measure was soundly defeated, 1,117-587.
"Yes, we didn't have a successful referendum in 2019, but we did have a successful referendum in 2015," Knight said. "It's not like we've never gotten anything that we've asked for."
Knight believes last year's referendum wasn't advertised and explained well enough.
"We didn't do a good enough job selling ourselves to our customers and explaining to them the need for the increase," he added.
Knight said the department can borrow money to buy apparatus or build stations, but needs income to pay for staff. It also needs staff, he added.
Murrells Inlet-Garden City Fire currently has eight positions open, despite what Knight calls a competitive salary and benefits package.
"We're having trouble getting people to want to do this job," Knight said.
The failed referendum is not a reflection on the community's feelings toward Murrells Inlet-Garden City Fire, Knight added.
"This is a great place to live and work and this community loves this fire department," Knight said. "Whoever becomes the chief of this department, they're getting a great department. They're getting some of the finest men and women in the fire service [and] they're getting a community that doesn't mind showing their support and doesn't mind telling you when they think you're wrong."
Knight was born in Charleston, but moved around a lot growing up as the son of a Methodist minister. He didn't always want to be a firefighter even though he had an uncle in the profession.
While working as the supervisor of the paint department in a factory, he was sent to a basic firefighting class.
"The biggest thing they taught me in that was where to go stand out in front of the building and tell the firemen where to go when they came," Knight said.
He was not happy being inside all day.
"Factory life was not cut out for me," Knight said.
A friend of Knight's wife, Yvonne, was a firefighter in St. Matthews. When he retired in June 1979, he recruited Knight and also gave him a job with his lawn care business.
"He said you can make more money doing that," Knight said.
Yvonne Knight was not sold on her husband's new career, but told him to try it for a few years and then find a real job.
"I basically got into fire service as a stepping stone into something else," Knight said. "But once I got into it, it got in my blood."
St. Matthews was close to the S.C. Fire Academy in Columbia, so Knight took every class he could.
"When I walked in the door, I recognized very quickly that I didn't know everything there was to know," Knight said.
Two years after he started, Knight was promoted to captain.
A year later, the department's chief retired due to health reasons and the assistant chief declined the job. Knight was promoted to chief and worked for St. Matthews Fire and Rescue for 21 years before taking the job in Murrells Inlet. During that time he also served as emergency preparedness director for Calhoun County.
"The money's not the best in the world and the working hours are sometimes crazy. You have to miss a lot of holidays and birthdays and sporting events and stuff like that," Knight said. "But I had the ability to do something that not everybody could do, but somebody had to do it. If not me, then who?"
Knight said with the advent of cell phones, the guy wearing the gold badge is never really off duty.
"You used to be able to go out of town and hide. You can't hide anymore. It's always a responsibility," Knight added.
There are four things Knight tells every new employee: Show up to work on time; do your job to the best of your ability while at work; don't do anything away from work to disgrace yourself, your family or the department; and come back and show up to work on time again.
"If you do those simple four things, it's amazing how quickly 40 years can come and go," Knight said. "When I sit back and say 40 years, it sounds like a long time but it doesn't feel like a long time."
The Knights, who have been married for 44 years, have no plans to move away from the Waccamaw Neck.
"We've been blessed beyond measure," Knight said. "God lives in Murrells Inlet and He's got a beach house over in Garden City and for the last 19-plus years I've been His fire chief."
Knight's two children work for the Georgetown County School District: Summer Altman is a special education teacher at Waccamaw High School, and Norman "Lee" Knight III is a paraprofessional at Waccamaw Intermediate School. The Knights also have two grandchildren, Anna and Henry Altman.
Knight plans to stay away for the department for a few months, unless needed. Then he may come back in some sort of volunteer capacity.
"This department was built on volunteers and we continue to have a need for, and a desire to have, volunteers," he said.
When he looks back, Knight can think of only one or two things that he'd change that would make it different.
"I'd do it all over again if I had the chance," he said.