Fire district makes plans for vote on tax increase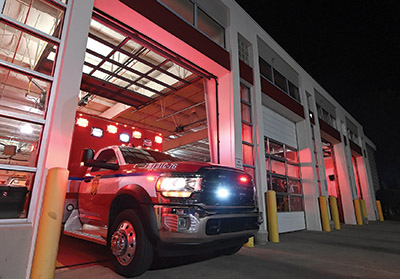 Over 70 percent of the district's calls for service are medical.
One of the three ambulances that serves the Murrells Inlet-Garden City Fire District stopped running just before the weekend. The problem wasn't the vehicle. The district didn't have enough people to staff it.
More than 200 times a year, the district doesn't have an ambulance available due to its call volume and the number of overlapping calls, according to a study commissioned by the district last year. It those cases, it has to call other agencies for mutual aid. That could be reduced by adding a fourth ambulance, but "the fact remains that not enough dollars are available to adequately pay for all positions needed," the study found.
The fire district board plans to ask voters this year to raise taxes to increase pay of current staff and hire additional staff. That comes four years after voters rejected a referendum to raise the district's property tax rate.
"What we bring in, we spend, and have not had significant growth in that ability to spend in many years," said Beth Ward, treasurer of the fire district board. "As our community continues to grow, we are going to have to have support from that community to continue to grow our service."
Murrells Inlet-Garden City is a special-purpose district created by the state legislature in 1966 to serve portions of Georgetown and Horry counties. Voters approved an increase in the tax rate from 10 to 14 mills in 2015. (A mill equals $1 of tax for every $1,000 of assessed value.)
In 2019, the district board asked voters to increase the rate to 19 mills, citing the need for a fourth ambulance. The effort was marred by the board's failure to get audits for several years, during which time an employee had embezzeled about $84,000.
With the goal of holding another referendum, the fire district board commissioned a study last year by McGrath Consulting, a Tennessee-based firm that specializes in emergency services.
Among the conclusions was that "due to the challenges with staffing, the district is working employees to the extreme."
Of the 8,200 calls the department answered last year, over 70 percent were medical calls, according to Fire Chief J.R. Haney. He has been with the department since 2002 and became chief in 2020.
"The fire service as a whole is going through this crisis as far as getting people through the door," he said.
The study found the district's turnover rate averaged more than 20 percent for the last three years, with a peak of 28 percent in 2021. And nearly two-thirds of those who resigned did so before they had two years of service.
A survey of employees put low pay at the top of the list of causes for turnover. That was followed by "supervisory practices."
Asked about areas where the department can improve, employees cited favoritism, micromanagement and poor communication as concerns along with low pay and burnout.
"There are some tough things and people who are critical," Haney said. "It gives us some things to focus on."
The study noted that a change in the command structure had caused problems because officers didn't understand their new roles or get special training.
It recommends hiring a human resources officer and a finance officer.
But the study also found that "employees are simply exhausted." Haney agreed with the assessment that "it causes certain items to be magnified." Taking an ambulance out of service last week was an example of the problem.
"Obviously, if we're dropping one medic unit, the other two are going to increase in volume," Haney said. "So we want to make sure all officers are keeping track of their personnel and making sure they have enough time for breaks and sleep and so on."
When the McGrath study was done, the district had established a minimum staffing level of 16 firefighters and emergency medical workers on each shift. Those are divided among the district's four stations.
Since the report was issued in January, the minimum staffing was dropped to 15. The "critical staffing level," where a battalion chief shifts to a fire truck, was dropped from 14 to 13.
The district's ideal staffing level is 18 per shift.
Salaries for those personnel account for half of the district's $6.1 million operating budget. The district is able to fund overtime pay using money allocated for positions that it cannot fill, Haney said.
The district has 12 current vacancies in those positions, but has three paramedic specialists due to start within the next month.
Even with the current shortage, the district has firefighters and officers who are paramedics that can fill in during a medical emergency. However, that means shutting down a fire truck.
"But there will not be anybody waiting on an ambulance," Haney said.
Yet the study pointed out that with its reduced staffing the district does not meet national standards for personnel responding to structure fires. Those standards aren't mandated, but the consultants note that they should be adopted for safety and to avoid litigation.
To attract more staff, the district has increased pay for emergency medical workers along with adopting signing bonuses and referral bonuses, Haney said.
It created the paramedic specialist position to attract people who can't or don't want to serve as firefighters. It plans to change the schedule for staff on one ambulance from 24-on, 48-off to 24/72. That was part of the department's appeal to its latest hires, he said.
"24/72 is our best tool for making sure we have well-rested providers. That way they can provide the best service to the community and, again, it's going to be a draw," Haney said. "I believe it's ultimately going to help with our recruitment and retention on the fire side as well."
But the new schedule means that the district will need eight people to staff an ambulance for three shifts instead of six.
"Staffing is key," Haney said. "This all drives around staffing."
The problem is common to emergency services around the area and across the country, according to the McGrath study.
For Murrells Inlet-Garden City, it's compounded by growth, particularly in the Horry County portion of its service area.
"We are completely tapped out," Haney said. "That's why this referendum's going to be important."
Last year, the district drew $220,000 from its reserves to balance its budget.
The board can call a referendum at any time by notifying the elections boards in each county, said Gene Connell, who chairs the board.
The district first needs to come up with a proposal that shows how much of a tax increase is needed, something the board plans to do soon, he said.
Haney is preparing a compensation plan that he hopes to give to the board this month. He said holding a referendum in early summer would, if successful, allow the extra tax to be included on the bill that goes out in the fall. After the failed vote in 2019, people told Haney "it's not about you guys," but about the financial problems.
The study also recommends that the district hire a public relations firm to get its message across before the referendum.