Football has some new rules as workouts begin at last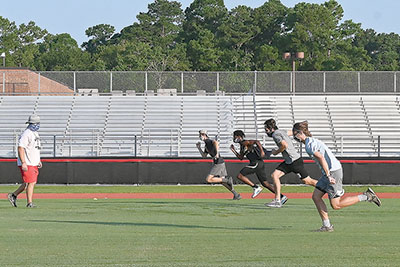 The first four returning players go through a series of drill on Warrior Field.
Temperature checks. Health questions. Small groups. Social distancing.
This is high school football in 2020.
"We're crossing the t's and dotting the i's and making sure we're as safe as possible," said Amondre Johnson, Waccamaw High School's first-year coach.
Football players arrived around 7 a.m. on a humid Monday to finally begin summer workouts.
"It was such a good day to see the kids. They were excited and we got a lot of good work done," Johnson said. "The time went well, the kids showed up on time, they stayed with their groups. Everything went as planned."
Johnson and his staff are adhering to the strict S.C. High School League guidelines, including health screenings and temperature checks, masks for coaches and players not involved in an activity, no groups of more than nine players and a coach, no physical contact and assumption of risk forms signed by a parent.
The first few days, Johnson kept groups even smaller than the guidelines allowed in phase 1, preferring four or five players rotating through stations on the football, softball, practice and baseball fields and in the weight room.
"We're ready to put work in," said Denson Crisler, a senior who passed for 1,748 yards and 19 touchdowns for the Warriors last year. "We've been putting in a lot of mental reps over the past couple of months getting ready for this. We just want to throw ourselves into the best position we can."
"It's good to see everybody not on a Zoom call to actually put some work in with the team," said Harrison Cooper, a senior who played on the offensive line for the Warriors last year. "It just feels good to be out here."
Johnson and his staff moved into phase 1.5 of the high school league plan on Wednesday, putting players in larger groups and adding a football to the mix.
"It's just starting to get a little bit more normal. With a football, it starts to actually feel like football," Johnson said. "You start throwing that football around and the game becomes a little bit more fun for them and it becomes that game they grew up with and that they know and they love."
Scott Stephens, who had had 33 tackles and three interceptions for the Warriors last year, said he and his fellow seniors have to lead the team like they would during a normal season.
"Hopefully we'll keep it going and everybody will still get ready for the season," Stephens said.
Crisler and Stephens have been working out with teammates at Stables Park while high school sports have been shut down.
"I've been getting out whenever I can … and working on fundamentals," Crisler said. "That's the biggest thing. Without that you can't do anything."
"That's been basically all we've been doing all summer to get ready," Stephens said.
Cooper said the summer has been a challenge.
"I'm used to going to practice every day. That's my life," he said. "This summer has been weird."
Last week, the high school league once again delayed the start of high school football season. Practice will start on Sept. 8 and the first game will be Sept. 25.
"I hope and pray that it works out," Johnson said. "I think the high school league has a lot of tough decisions to make and I don't envy their job right now."
Johnson and his coaches appreciate the league's efforts to make football safe for everybody involved.
"I know it's tough. I support them in whatever decision they make," Johnson said. "Any chance to play football is a chance to play football. That's what we want."
In the next few weeks leading up to Sept. 8, it is possible the high school league could change the football schedule again.
Changes could also be made to the schedules of the other fall sports – volleyball, girls tennis, swimming, cross country, girls golf and competitive cheerleading.
There is also a chance fall sports could be shut down all together and moved to the spring.