For pianist, 13, it began with Sinatra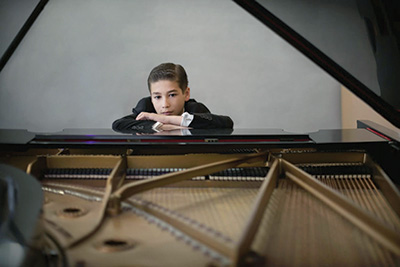 Brandon Goldberg.
He goes to a regular school and has regular friends, but Brandon Goldberg is far from a regular eighth-grader. Some might call the award-winning 13-year-old a musical genius.
He will perform at the first of two Lee Minton Signature Series concerts this month. The programs named for the late founder of the Pawleys Island Festival of Music and Art recreate the feel of the festival's early days with small ensembles in more intimate settings.
Goldberg started playing the piano at age 3, initially trying to imitate the songs he heard in preschool. Classical studies followed at 5, and by 8 he was studying at the University of Miami and the Litchfield Jazz Camp & Festival.
Along the way he studied with Matt Wilson, Avery Sharpe, Paul Bollenback, Ira Sullivan, Shelly Berg, Chuck Bergeron and Don Braden.
Goldberg's grandmother turned him on to jazz with a Rat Pack video featuring Frank Sinatra.
"Which led me to check out Tony Bennett and Bill Evans," Goldberg said. "And after that I heard Oscar Peterson, and then I knew what I wanted to do."
Play jazz.
"After I got into Bill Evans, I really started to get into all jazz music, and I would listen to it all the time, every day," Goldberg said. "And from that, I kind of developed my own voice from what I kept hearing."
Goldberg, who lives in Miami, performed at the 2019 Newport Jazz Festival. Along with several other festivals he has been a featured performer with the Miami Symphony and the Jazz Roots series. He's appeared on Steve Harvey's "Little Big Shots" and Harry Connick Jr.'s show.
Downbeat Magazine named him the Student Music Award winner for Jazz Soloist and Outstanding Original Composition.
His first album, "Let's Play," features three originals compositions and six standards. It was inspired by the pianists Thelonious Monk, McCoy Tyner and Herbie Hancock.
"I hope to do another album soon," Goldberg said, "My music is very different since I made the last one quite a while ago. I think my music is growing and changing."
With his concert schedule, plus school, it is not easy to find time to put together a new album, he added.
"I have to find a balance between music and school," Goldberg said. "I get behind at school when I go to play, but I don't mind catching up because I enjoy performing so much."
Although he continues his classical studies, he doesn't really practice piano any more.
"I just sit down and fool around," Goldberg said. "I hear a song in my head and just try to play it. "
Ben Wolfe on bass and Donald Edwards on drums will accompany Goldberg at the Minton Series.
"Every time we play it is unique," Goldberg said. "We don't discuss it, yet we know what we are going to play because we play so well together. We have a blast. There is a lot of freedom and energy to jazz."
As to his future, he's uncertain. "I would like to play all the jazz clubs and festivals that there are, but I really don't know where I will end up."
What: Brandon Goldberg.
When: Jan. 21, 7 p.m.
Where: The Abbey, Litchfield Plantation.
How much: $20 at pawleysmusic.com.