For seasonal light display, only constant is change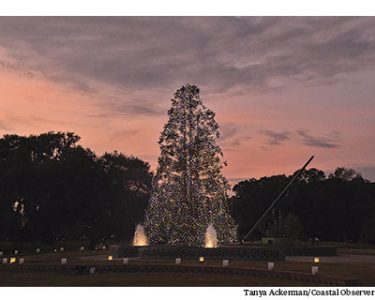 The 80-foot Christmas tree is a centerpiece of Nights of a Thousand Candles.
Brookgreen Gardens' slogan is "Ever Changing, Simply Amazing," and staff and volunteers take that to heart every year when designing and installing Nights of a Thousand Candles.
This year marks the 20th anniversary of the holiday extravaganza, which opens tonight. Visitors will see some new designs, along with annual favorites, and blasts from the past.
One big change is to the 80-feet Christmas tree, which has been a gathering point every evening when it is lit for the last five years. Because the tree is nearing the end of its life cycle, fewer light strands were used with larger bulbs.
"The tree is probably the biggest change for us," said Page Kiniry, Brookgreen's president and CEO. "Whenever there's a change you get nervous. But I think it's as beautiful as it's ever been."
New additions this year include a large butterfly in honor of the shape of Brookgreen's property, a blue garden, an outdoor train set, more displays of wine bottles, and candles in Mason jars.
This year's indoor exhibits are Auld Lang Syne and Holiday Memories.
"It means time that has gone by," said Vicki Richardson, who designed Auld Lang Syne. "So what we're trying to do is incorporate something that represents the past 20 years in some way."
Several parts of the gallery incorporate recycled items. The door and shutters off the Scandinavian house from last year's exhibit are hanging on a wall, there is a display of empty wine bottles with decorative items inside, and a panel decorated with longleaf pine needles.
"We're trying to reuse things, but maybe with a little bit different twist on it just to give people something new to look at," Richardson said. "It's not always floral, but it's things from nature."
There is also a display of leaves covered in cement and paint, a decorated Christmas tree, a display of poinsettias, and two larger-than-life Father Christmases made from artificial Christmas trees and with beards created from the fleece of Brookgreen sheep.
Richardson used to supervise Brookgreen's greenhouse and has been designing the indoor horticulture exhibit for five years. She said she couldn't do it without her crew of volunteers.
"I just say, 'we're going to do this,' and they just come in and do it," she added. "They're just great."
Holiday Memories is the annual exhibit full of trains and homages to childhood. New this year are a Harry Potter-themed Christmas tree to go along with last year's large Hogwarts display; a tribute to Rankin/Bass Productions, creators of the "Frosty the Snowman" and "Rudolph the Red-Nosed Reindeer" animated television specials, including a photo op with the abominable snowman; and the outdoor train display.
The indoor exhibits are open every day during regular garden hours. However, the trains will only run during Nights of a Thousand Candles.
Planning for Nights of a Thousand Candles begins in January and decorating starts in September.
About 100 volunteers light all the candles before the gates open, and extinguish them after the crowds go home. Another set of volunteers arrives the next morning to clean up and replace any candles that have burned down.
Brookgreen hosted a fundraiser on Saturday night to give people a sneak peek at the event with lots of wine and hors d'oeuvres. Proceeds from the event will help fund educational programs.
Kiniry strolled through the gardens speaking with visitors and telling stories about the history of Nights of a Thousand Candles, and all the work that goes into it every year.
"We had beautiful weather and a wonderful crowd to kind of ease into it," Kiniry said. "It's not the craziness of the festival, but a chance for us to celebrate the season for a good purpose. … I'm just so happy to see all these happy people here."
Folks who want to enjoy Nights of a Thousand Candles on a smaller scale can stop by on Dec. 27, 28 or 31 for Light Up the New Year from 6-9 p.m. Tickets are $20 ($15 for members) and must be purchased in advance.
If you go
What: Nights of a Thousand Candles.
When: Dec. 5-8, 12-15 and 19-21, 3-10 p.m.
Where: Brookgreen Gardens.
Tickets: $25 for adults; $15 for kids ($20 and $12 for members) at brookgreen.org. Tickets must be purchased in advance and for a specific date.