Former DOT chairman sues website over corruption claims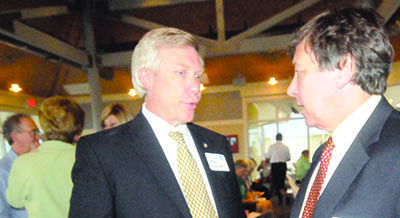 Mike Wooten, left, at a Waccamaw Neck POA Council meeting in 2013.
The former chairman of the state Department of Transportation commission has sued a political website saying it damaged his reputation with false accusations that he was involved in scandal and corruption at the agency.
Mike Wooten of Murrells Inlet seeks actual and punitive damages from FITSNews and its owner Will Folks in a libel suit filed in Circuit Court last week. Wooten, the president of DDC Engineers, was appointed to the DOT commission in 2013 to represent the 7th Congressional District. He was elected commission chairman in 2016. He stepped down last year in advance of a new state law that would have prohibited his firm for bidding for DOT contracts.
In reporting on that decision, FITSNews wrote that Wooten's tenure "was marked by numerous scandals" and that DDC "benefited financially from projects funded by the agency he oversees." It called the activities part of a "culture of corruption."
In his suit, Wooten said the allegations of "dishonesty, fraud and unethical conduct" were false. And they were "published with the knowledge of its falsity or with a reckless disregard of its truth or falsity," he claims. For a public official, that is a key element of proving libel by showing "actual malice."
The suit cites three other items posted by FITSNews, whose site features the slogan "Unfair. Unbalance." A November 2016 article about Interstate 73 said it was "being aggressively pushed by scandal-ravaged S.C. Department of Transportation (SCDOT) commission chairman Mike Wooten – a guy whose agency breeds corruption." An April 2017 article called Wooten "notoriously corrupt." The same phrase was used in an article the following July.
All the claims were false, Wooten says in the suit, adding that the articles remain on the FITSNews site.
Wooten, who could not be reached for comment, says in his court filing that he has suffered actual damages along with the loss of his personal and business reputation as a result of the articles.
Folks said he was not aware of the suit, but noted that he and his website were not alone in criticizing Wooten.
"Cluttering our overburdened justice system with a nonsense libel suit demonstrates the former commissioner's contempt for taxpayers has not abated since he stepped down. Furthermore, it shows he has absolutely no conception – or appreciation – of the First Amendment rights enjoyed by all citizens when it comes to criticizing our leaders on matters of public policy."
Folks added that he would fight to preserve that right.