Former educator picked to chair school board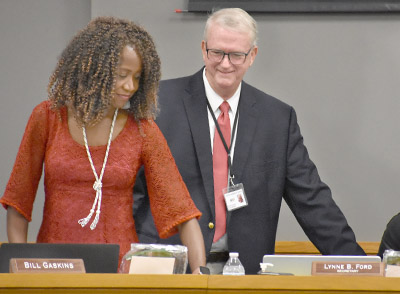 Bill Gaskins and Lynne Ford swap seats after his election as chairman. She became vice chairman after previously serving as secretary.
Members of the Georgetown County School Board told Bill Gaskins he was the right man to be the next chairman.
After much contemplation and prayer, Gaskins agreed to accept the nomination and was unanimously elected on Tuesday night.
The support of his fellow board members was humbling, said Gaskins, who represents District 5.
"I know it has a lot of challenges ahead as we go forward," Gaskins said. "I'm willing to listen. I am there to serve the other board members and the constituents of Georgetown County."
Gaskins was elected to the board in 2020 to fill the seat left vacant by the death of Elery Little. Before that, he worked for the school district for 20 years as a teacher, reading specialist and instructional technologist before going to work for the Berkeley County School District. He retired in 2018.
Gaskins is also the former associate director of Helping Hands of Georgetown.
Gaskins takes over from Arthur Lance Jr., who became chairman upon the resignation of Jim Dumm at the end of 2022. Lance did not seek re-election from District 7.
The chairman's duties include presiding over board meetings, working with the superintendent to plan meeting agendas, and signing contracts.
Gaskins said one of the biggest challenges for the board going forward is teacher retention.
"We have seen, across the state, news of teachers leaving the profession. We have neighboring school districts that have over 100 teaching positions open. We're very fortunate in Georgetown County we only have a few job openings at this point," Gaskins said. "I think that's going to be the biggest challenge – keeping teachers and hiring teachers – because our colleges are not producing teachers the way they used to. We've got to find ways to get people to go into education to be teachers. We've got to look at alternatives and invest in alternate pathways."
The other board officers elected were Lynne Ford, vice chairman; Kathy Anderson, secretary; and Sandra Johnson, parliamentarian.
Anderson was sworn in to her first full term on the board after being elected to fill Dumm's vacant at-large seat in April.
"Thank all of you out there who had faith in me and voted me back onto the board," Anderson said. "I'm looking forward to next four years, and really not having to run a campaign within the next four years. Two campaigns within six months was a lot."
Also sworn in were Scott DuBose, District 2; Robert Cox, at-large; and Keith Moore, District 7.
"I'm happy to be here, honored and humbled," Cox said. "I look forward to working with every one of you. I'm looking forward to a great year."
"Although there might be differences, I feel like we all are here for the right reason: what's best for the kids," Moore said. "I'm very, very excited to be up here giving my two cents."
During the public comment period of the meeting, the board residents' thoughts on what the district is, or isn't, doing about books.
Kathy McGrogan of Georgetown urged the board not to ban books.
"Bans send a message that there are things kids shouldn't ask about. Book banning is a weak response to ideas that scare us; ideas like racism and lifestyles, cultures and religions that are different from our own," McGrogan said. "Children deserve to see themselves and their experiences in books and they deserve access to a diversity of stories and perspectives that will help them understand and navigate the world around them."
Marla Hamby of Allston Plantation expressed her concerns about the textbooks, required reading books and tests. She urged the district to make copies available at county library branches for parents and grandparents to review.
"The news media has prompted me to say this. I have seen things that, quite frankly, shocked me and some of the subject matter was very shocking," Hamby said. "I just want to be sure that it is not here and the only way I can be sure is to see it with my own eyes."
The board was presented with a quarterly update on the district's $99.1 million budget for fiscal year 2022, and draft schedule of how the budget process will work for 2023.
The district is hosting a budget retreat on Friday for board members to discuss priorities for the next school year.
"With the budget, I will get into that in-depth," DuBose said. "What I'm planning to do initially is, I want to start meeting with school principals and teachers, particularly math teachers, to find out why we're not doing so well, and then go from there."
"We've got to take a look at teachers' salaries for next year and we've got to look at all line items, all expenditures to make sure we stay, No. 1, on budget," Cox said. "That's the most important thing."