Former student returns as child center director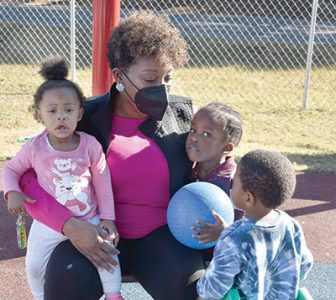 Tera Marshall with some of her students.
Tera Marshall used to be a student at the Pawleys Island Child Development Center.
Now she is the director of the center, which has been educating children for 47 years.
"I've kind of come full circle," Marshall said. "I had a special connection with this building and it's in my community and I love the kids."
Marshall took over last year when long-time director Lillian Reid retired. Reid was Marshall's teacher when she was a student at the center.
Marshall grew up in Pawleys Island, attended the Waccamaw School and graduated from Georgetown High School in 1990.
After earning a degree in communications and print journalism from Savannah State University, Marshall lived for a time in Columbia and then moved to Philadelphia, where her family is from.
When she moved back to Pawleys Island to raise her daughter, Marshall started working with autistic children at Waccamaw Elementary School
"I loved it. I loved the kids," she said. "My passion is working with kids. I didn't know it growing up, I didn't know it in my 20s, I didn't even know it in my 30s. I found out in my 40s."
Marshall then earned a degree in public relations from Southern New Hampshire University.
"I've always wanted to work in public relations," she said. "I like crisis management and crisis communications."
When Marshall heard that Reid was retiring she thought the director's job would be perfect for her.
"I still get to work with kids, I get to use my communications and my public relations," Marshall said. "This is a win."
The center is home to a preschool program for children ages 2 to 4 years, and an Early Head Start program for children from 8 weeks to age 3.
Marshall said pre-school programs are "building blocks" for a child's education.
"Right now, at this age, they absorb so much," she said. "These kids, we see where they can go. We see what they can learn. If we expose them to it, they're soaking it in."
Marshall wants to make sure the children are not behind their peers when they get to kindergarten.
"I want them to go in where it's a level playing field," she said.
Because she doesn't have a degree in early childhood education, Marshall was required by the Department of Social Services to work as a teacher for six months with the head start program before she took over as the center's director.
"I liked it, I liked working with the kids and doing everyday things with the kids," Marshall said. "At the same time I got to learn the inner workings of the center. It has its good and its bad."
The experience gave Marshall the opportunity to see what changes need to be made.
Marshall also had to get used to deal with the center's board.
"Dealing with 10 different personalities is challenging, but I like challenges," Marshall said. "It's all working out and I've had nothing but support."
Marshall has also found support from the community and the staff.
The Early Head Start program is at capacity with 16 students.
The preschool program currently has five students enrolled.
"We took a big hit. We were fully enrolled before COVID," Marshall said. "They shut down for a year. The community kind of lost trust because that was a big hit. I have to build that trust back up and let them know that we do face COVID challenges, but we have to take it one day at a time and we're not going to shut down for a year like we did before. We'll take it case by case."
Marshall is hoping to increase enrollment to where it was before the pandemic.
"That's one of my main goals is to put systems in place so that people know we're enrolling, that people know we're here [and] even though it's an affordable, low-cost center, you don't sacrifice on quality education," Marshall said. "I need for people to know that."
To get the word out, Marshall created a new Facebook page for the center and hired a company to update its website.
Marshall also hosted an open house last month, and is planning monthly events, including a spring festival/fundraiser, to get the community involved.
Marshall also wants to partner with the people she worked with at Waccamaw Elementary to build a bridge between the center and the school, including sending her teachers over to see what the kindergarteners are doing and sending flyers home to parents.
"I'm excited about the future of the Pawleys Island Child Development Center," Marshall said. "The possibilities are endless."