Former WHS runner edged out of spot on Olympic team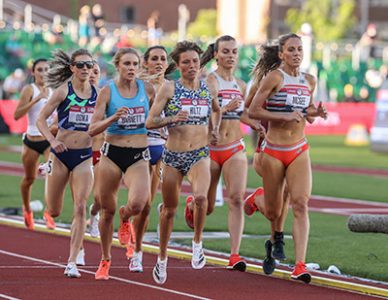 Grace Barnett, left, in the Olympic Track and Field Team Trials. (Photo by Kevin Morris)
Grace Barnett was 3 seconds away from a trip to the Olympics Games in Tokyo.
Barnett, a 2013 Waccamaw High School graduate, finished seventh in the 1,500 meters at the Olymic trials at the University of Oregon on Monday.
"For me making that final was a really huge accomplishment," Barnett said. "It's amazing how far the sport has been able to take me."
Barnett finished in a time of 4:05.05. Elle Purrier St. Pierre won the race (3:58.03) and qualified for the Olympics, as did Cory McGee, who finished second (4:00.67). Heather McLean, who finished third (4:02.29), is the alternate for the event.
Barnett's competitors in the final included a world champion, women who had competed at the world championships, and several NCAA champions.
"By far it was the highest level of competition I've ever been a part of," Barnett said. "Once you get to that final, the women are so accomplished."
Barnett was one of 30 women to qualify in the 1,500 meters. She posted a time of 4:11.73 in the first round on Friday, which was faster than St. Pierre, McGee and McLean.
Barnett's time in the semifinals on Saturday was 4:07.70, faster than St. Pierre and McLean.
In order to qualify for the Olympic trails in the 1,500 meters, female runners had to post a time at or below 4:06. Barnett did not hit that time until May 29.
"It was a really big personal best for me," Barnett said. "So it was pretty exciting."
Barnett has her eye on qualifying for the next summer Olympics in Paris in 2024.
But her training now will focus on the world championships in July of 2022 at the same track in Oregon that hosted the Olympic trials. It will be the first time the world championships have been held in the United States.
"I'll race a little bit more this summer," Barnett said. "Fortunately I'm still relatively young. There are women in their early- to mid-30s that still race. So I still have some time left in me to compete."
Barnett won state titles in the 800, 1,600 and 3,200 meters in her junior and senior years at Waccamaw High.
After graduating, she was a walk-on at Clemson University, where she set a school record in the indoor mile and outdoor 1,500 meters.
She was also named an All-American in the indoor mile and indoor distance medley relay in 2015 and in cross country in 2016.
Barnett lives in Mammoth Lakes, Calif., where she teaches STEM (science, technology, engineering, and mathematics) part-time at Mammoth Elementary School.
"It's a really great job and I feel really blessed to be able to follow my passion of teaching while still competing," Barnett said.
Barnett is a member of the Mammoth Track Club and said the town's elevation of 8,000 feet above sea level is excellent for training.
"A pretty important part of training at this level is altitude," she said.
She looked into joining several professional teams but chose Mammoth after reading a memoir by Deena Kastor, who is the American record-holder in the marathon.
Kastor's husband is the coach at the club.
"I was just really was drawn to her philosophy of gratitude and joy through training and how positive emotion can help you succeed at the next level," Barnett said. "That was something that really drew me and really resonated with me."
Barnett's parents, Jim and Mary Jane, her sister, Jaime, and her former Waccamaw coach Michael Walker were all in Oregon to cheer her on at the Olympic trials.
"It was really special. I hadn't seen anyone since Christmas," Barnett said. "It was really amazing."
She's also heard from a lot of people in Pawleys Island who said they watched her on TV.
"I'm just really grateful," Barnett said. "I've had the best support system."