Forum solicits visions for Highway 17 corridor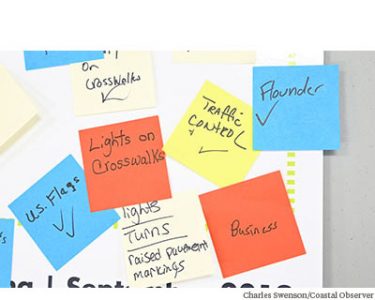 Sticky notes list needs along the Highway 17 corridor.
The Highway 17 corridor through the Waccamaw Neck needs more landscaping and turn lanes. It needs more fast food and fine dining. It needs more enforcement of speed limits and more kindness.
It also needs more flounder.
Consultants are compiling the opinions from over 100 area residents who this week attended the first public forum in a long-anticipated review of the highway and neighboring land uses.
"This is big-picture," said Stuart Day, a transportation engineer with Stantec, one of two firms working on corridor studies. "What do you want 17 to be when it grows up."
It was Day's father, Rick, who worked on the first corridor study in 2003. Georgetown County Council Member Steve Goggans got $100,000 to update that study in 2015 from the Grand Strand Area Transportation Study. The council then approved another $200,000 for a companion study of land use. Stantec is doing the land-use study. AECOM is doing the highway study. The firms are working together on data collection and public input.
"A good land-use plan is a good traffic plan," Day said.
This week's opening forum at the Murrells Inlet Community Center had several opportunities for people to share ideas. Day was at a station that asked people to post sticky notes saying what the corridor needs more of and what it needs less of.
Law enforcement showed up on both boards, a source of frustration for Lt. Chris Geno of the Georgetown County Sheriff's Office. He was there to observe, but ended up talking with participants about speeding.
Participants were also asked to focus on details about design and style, placing stickers on their top choices. Most favored traditional styles for infrastructure and green space.
They also received $5 in play money to allocate among 10 buckets that represented public investment opportunities along Highway 17. Conservation areas, bike paths and public transit appeared to garner most of the funding.
Dylan McKnight, an urban planner and designer with Stantec, will be counting the dollars. "The goal is to get people to think about how these things get done," he said. That's why play money replaces stickers. "There are certain things that are always at the top. It all boils down to character."
Amid the many choices, some participants saw a gap.
"This is totally about change," Bill Otis, the former mayor of Pawleys Island, said. "There's no place to place a sticker that says 'none of the above.' "
County Council Chairman John Thomas, a North Litchfield resident, noticed the same thing. "There's no option for 'leave as is,' " he said.
"What most people here want is what Pawleys used to be," said Walter Wilkinson. He was among about 20 participants who have been active in opposing the redevelopment of the former Litchfield Racquet Club.
Mary Beth Klein of Pawleys Plantation is part of that effort because she is concerned that golf courses may be redeveloped. She found the forum to be a source of ideas. "I learned a lot," she said. "A lot of seeds have been planted."
"There's obviously a need for this type of forum," said Chris Bianco, who serves on a property owners board at Litchfield by the Sea. Looking at the diverse opinions reminded him of a town in New Jersey that has struggled for years to balance competing interests. "People want it to be the way it was," he said. Because the community can't agree, over 60 percent of its buildings are vacant. "It's going to be tumbleweed."
Jim Mallow of Litchfield found the format familiar. He is the former head of the Maryland state park system. There was "a little bit of overload" when it came to making choices, but he thought the money buckets were a good concept.
"I'm amazed at the turnout," Mallow said.
Narvie Stewart of Murrells Inlet said the forum was a new experience. She wants to make sure the area around her home remains low-density development. She planned to return in October when there will be a four-day "charette" that will allow the public to review the information gathered from the forum and a series of focus groups that were also held this week. Participants at the charette will work with planners and designers to come up with specific improvement projects for the Highway 17 corridor.