Funds approved to cover charter school shortfall this year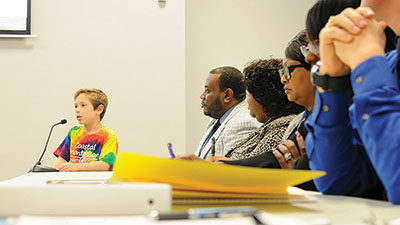 Alex Doran, a third-grader, address the school board.
The Georgetown County School Board agreed this week to restore funding to the Coastal Montessori Charter School that was cut after the discovery that the wrong numbers were used in the calculation. The move will proved an additional $225,000 to the charter school, which is sponsored by the district.
The vote followed a meeting between district and charter school officials earlier this month, the first since the error was found in April.
Charter schools are public schools that receive funding based on a formula contained in state law that include the district's enrollment and its revenue. A review of monthly statements provided to the charter school showed the district used the wrong revenue figure, which resulted in an overpayment.
The district reduced its payments to the charter school in April, and those carried forward into the fiscal year that began July 1. The charter school covered the deficit with its reserve and cut about $100,000 from its spending in the fiscal 2019 budget.
Coastal Montessori students, staff and parents filled the board room for this week's meeting. The students viewed the budget cut as an existential crisis for the school.
Alex Doran, a third-grader, said his brother, who is 5, hopes to go to the school next year. Alex wants to make sure the school is there.
"I really like our uniforms, and I learned a lot this year," he added. Like many of the students, he wore a tie-dyed T-shirt.
Evie Hayes, a second-grader, has two younger brothers. "I really want my school to stay," she said, so they can attend.
"We should keep the school," Slayt Bird, a fourth-grader, said. He remembers when the current facility was built in 2016. "It was so much fun to have."
"I just think Coastal Montessori should be brought up for other kids who want to come and enjoy the school," Michael Winters, a fourth-grader, said.
Pam Martin, a professor at Coastal Carolina University and mother of two charter school students, urged the school board to look at long-term funding, citing the school's benefits for economic development.
The international reputation of Montessori education and its transferable teaching method will help attract industry, Martin said.
Board Member Michael Cafaro asked if $225,000 was enough. The school's director, Nathalie Hunt, said the combined shortfall was about $350,000, but she was grateful for the $225,000.
Board Member Richard Kerr called that figure "a good compromise."