Given a choice, local officials keep accesses shut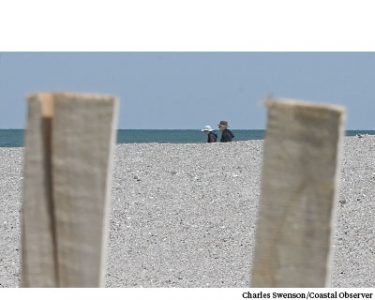 Walkers on the south end of Pawleys Island, where the public access is closed.
Public access to the beach on Pawleys Island will stay closed until Monday, unless the Town Council extends the closing.
Access to the beaches at Litchfield and Garden City will remain closed until May 15, unless Georgetown County Council lifts the closing order sooner.
Local officials took different approaches after Gov. Henry McMaster rescinded his March 30 order closing access to beaches and waterways, but they shared a common concern that reopening the beaches before neighboring areas would lead to traffic and crowds that would be hard to police.
McMaster reopened boat landings last week. This week, he said local officials could make the call on beach access.
Pawleys Island Town Council met the morning after the governor's announcement. Beaches in the Charleston area remained closed along with those in Myrtle Beach, but Georgetown and Horry counties had yet to decide the issue.
"That would make Pawleys Island the only game in town from at least 50 miles in each direction," Mayor Brian Henry said.
"If we don't stay closed, everybody's going to come here," Council Member Sarah Zimmerman said.
But Council Member Ashley Carter pointed out the beach isn't actually closed: it's open to people staying in beachfront houses and those who are able to use private easements.
"I'd like to do some kind of compromise," Henry said.
He proposed keeping the accesses closed through the weekend. The council will meet again Monday to discuss whether to lift a ban on short-term rentals that expires April 30.
If the council doesn't act, the accesses will reopen at noon.
County Council met moments later.
Council Chairman John Thomas said he expected Horry County beaches to stay closed and said Georgetown County should do the same.
"You almost sound like you could be on the evening news," Council Member Raymond Newton said after listening to Thomas recite concerns about COVID-19 tests and enforcement of social distancing. "It's a bad decision to keep the beaches closed."
Council Member Steve Goggans agreed. He expected Horry County to open its beaches, which it did later that day.
"You're more apt to get coronavirus at a supermarket than walking on the beach," Goggans said.
He and Newton said if the access remains closed, no one should be allowed on the beach.
The vote was 5-2 to keep the accesses closed through May 15.
Council Member Ron Charlton said he would like a review of the closing before then.