Goggans unsure of role as rezoning comes up for vote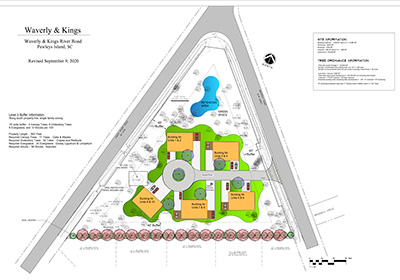 The plan calls for 10 duplex units clustered on the 3.3 acres.
Council Member Steve Goggans is still considering whether to recuse himself from a vote Sept. 22 on a rezoning that has drawn opposition from area residents.
The project, known as Waverly and Kings, originally called for 14 townhouses. That was scaled back after a public hearing where neighbors and the citizens group Keep It Green raised objections. The current zoning would allow six single-family lots.
The new proposal is for 10 duplex units. They will be clustered on the 3.3-acre site at the corner of Waverly and Kings River roads. That will allow trees on the site to be preserved, said Bruce Watts, who designed the project for a group of investors who have a contract to buy the property from Calvin Gilmore. It will also result in one driveway, on Waverly Road, rather than six driveways.
Goggans' architecture firm created a master plan for the Gilmore's property, which also includes 20 acres on the opposite corner of the intersection where he has a home. The work was done in 2016.
Goggans said his firm created several options for the property. Gilmore posted one online as part of a portfolio of investment properties that he owns. It shows 11 duplexes on the smaller tract and 19 duplexes surrounding the main house on the larger tract. Both properties are currently restricted to single-family, low-density development.
Goggans asked Wesley Bryant, the county attorney and deputy administrator, for an opinion.
"I'm legally clear, according to Wes," Goggans said. "I'm not involved in any way. I'm not going to benefit in any way."
The Planning Commission failed to send a recommendation on the project to the council. Members were deadlocked 3-3. The council gave first reading to the rezoning last week, but will bring it up for discussion Tuesday on the second of three required readings.
"I'm still weighing things," Goggans said.
He met this week with the leaders of Keep It Green. Members told the council last week that they plan to turn out for next week's council meeting.
The change from 14 three-story townhouses to 10 story-and-a-half duplexes is still an increase in density that Keep It Green opposes.
Googans said he agrees with the idea of limiting residential density, but pointed out that the county has recently approved zoning changes that reduced residential areas.
"We have a lot of common goals," he said.
Rather than vote on the rezoning, the council could also remand it to the Planning Commission, which was missing one member when the original plan was considered.
The council meets Tuesday at 5:30 p.m. in the Howard Auditorium in Georgetown.