Golf cart owners urge town to use permits strategically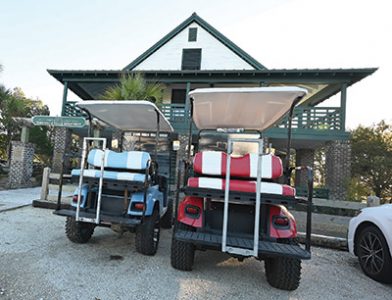 There were 667 golf cart permits issued by the town last year.
People who ride their golf carts to the beach at Pawleys Island have urged the town to reconsider its ordinance that requires the carts to be registered. They think it could be used to leverage more revenue from the town and improve access.
Town Council voted to raise its annual permit fee from $10 to $25 after placing a freeze on renewals last month.
Four of the permit holders told the council at a public hearing this week that they aren't bothered by the fee increase.
"I do not have a problem with the fee going up. That isn't my issue," said Rick Ahlert, who lives off Waverly Road. "But if we are doing this to generate revenue, we're missing the big picture. You could be generating a lot more revenue by people coming and going off this island on a regular basis."
Wayne Fougere, who lives off the South Causeway, suggested the town charge for parking.
"I can understand why you want more money, but there are other ways of going about it," he said.
Aside from raising money, the town could use parking fees to reduce traffic.
"If you charge people to park, they'll be less inclined to come here," Fougere said. "They'll go to the state park."
John Batiste, who also lives off the South Causeway, suggested the south end parking lot would be a source of revenue, particularly if people who don't have town permits were charged for parking.
He also told the council he sees many golf carts without town permits.
"If it is for revenue purposes, I think maybe that needs to be enforced," Batiste said.
One of the four priorities in the town's strategic plan is finding revenue for beach renourishment and other infrastructure projects, but Mayor Brian Henry said the golf cart permit fee is not part of that equation.
"It costs money to enforce the golf cart ordinance; it costs money for administration," he said.
The fee increase was proposed by Council Member Sarah Zimmerman during discussion of the 2023 budget. She proposed a $100 fee. The council settled on $25.
The town had banned golf carts until a state law adopted in 2015 set registration requirements and rules for operation. The law prohibits local governments from imposing additional restrictions.
The one exception is that local governments can reduce the range that golf carts can legally operate from the address where they are registered from four miles to two miles. Pawleys Island did so and adopted its own permit fee as a way to ensure owners met that restriction.
The town registration also allows police to ticket carts that are parked illegally without having to wait for the driver to return. Although they are registered with the state Department of Motor Vehicles, golf cart registrations can't be searched by police in the same way as other vehicles.
"We did issue a significant amount of summonses last year, parking summonses, for vehicles with no decals. If we do find one that's unoccupied and parked illegally, we put a boot on it," said Police Chief Mike Fanning, referring to golf carts.
The town has two boots and may add another pair "just to keep up with the amount of golf carts coming onto the island, especially on weekends," he said.
Fanning also pointed out that the town is limited in its ability to charge for parking. The south end lot is owned by Georgetown County. The road rights of way belong to the state.
A state law passed in 2021 prohibits the municipalities from placing restrictions on state road rights of way without approval from the Department of Transportation. That followed complaints about parking fees and restrictions put in place during the pandemic at beaches in Charleston County. The law also changed the fine for people who place obstructions in the right of way to $100 a day.
While the law requires beach communities to have free parking if they receive state funds for beach renourishment, as Pawleys Island did in 2020, it allows paid parking, provided it has DOT approval. The revenue can only be used for maintaining the beach, the parking facilities and public safety.
Pawleys Island discussed parking fees as a way to fund beach renourishment in 2019, but rejected the idea as a change to the island's culture.
Ahlert told the council the responsibility of maintaining Pawleys Island's resources falls on the wider community.
"I honestly believe that 29585 residents have an obligation to help support the natural resources of Pawleys Island, and it should not fall solely on the homeowners of the island – or the golf carts," he said.
Chuck Supple, who lives off the South Causeway, also pointed out "property values are affected positively with access to the island with a golf cart."
He suggested the council continue to embrace the smaller, slower vehicles and come up with guidelines for best practices for operators.
Town Administrator Dan Newquist has already drafted a memo that will go out to permit holders along with their sticker. Before summarizing the state laws, it urges drivers to "yield to motor vehicles when there is a shoulder or driveway available."
But the growing use of golf carts – 667 permits were issued in 2022 – is a concern to the town.
"It becomes an enforcement challenge if 700 golf cart permits goes to 1,200 golf cart permits," Henry said.
The town plans to review how it manages golf carts and parking.
"The last thing I want us to do is say, 'nope, we don't want any golf carts over here,'" Henry said.
But he added that limiting the number of permits "might be the smartest thing to do so we can maintain some sense of order, because Pawleys is not a free-for-all kind of place. That's what makes it so desirable for people to vacation here. It's not traffic and golf carts everywhere."
The town has contacted the S.C. Municipal Association for advice about its ability to limit golf carts.
Staff said they are still researching the issue, but said they don't believe the state law provides much latitude.