GOP told not to rely on past success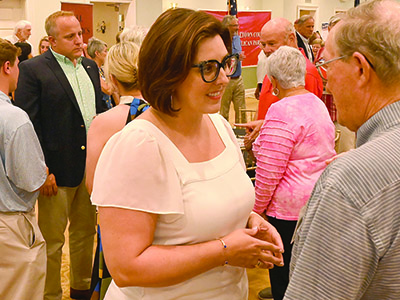 Ellen Weaver and, behind her, Russell Fry meet voters at the GOP rally.
Carter Weaver came away from a GOP rally this week with a check.
"I was surprised," he said.
Weaver is midway through his first full term as Georgetown County sheriff. He won't be on the ballot again until 2024. The donation and his pre-stump speech to hundreds of people who filled the ballroom at Pawleys Plantation came as Republicans celebrated their gains in capturing local offices and reminded voters that they still need to show up at the polls.
"You think this is a red area, that the future is going to be in Republican hands. It's not," said Russell Fry, the GOP candidate for the 7th District congressional seat. "If the Democrats are fighting like hell to keep their power, then we have to fight back."
Fry beat U.S. Rep. Tom Rice in a seven-way race for the nomination. He got the endorsement of former President Donald Trump to unseat the incumbent, one of 10 House Republicans who voted to impeach Trump following the Jan. 6 riot at the Capitol.
Fry said he met with Trump at a rally in Wilmington, N.C., last week.
"He is super-engaged. He doesn't have to be, right?" Fry said, adding that applied to most people in the room. "But you decided on a Monday to show up here, when there's a thousand other things you can do. And why? Because our country matters."
Fry faces Democrat Daryl Scott in the November election in a district that is considered a Republican stronghold.
Ellen Weaver, who won a runoff of the nomination as state superintendent of education, is also considered a favorite in her race with Democrat Lisa Ellis. A Democrat has not won a statewide race since 2006.
Like Fry, Weaver framed her contest as a battle for the future of the country.
"If we want to save America, it starts with saving our education system and fighting for the hearts and minds of our children," Weaver said.
She promised to focus on reading in the early grades, noting that half the state's students aren't reading on grade level, simplify school funding and standards, and raise teacher pay to the national average over five years.
Weaver also supports school choice, which she called a parental right to choose "the education option" best suited to their children."
"I need those phone calls. I need the shoe leather. I need you to take 10, 15, 20 of your friends to vote and remind them why the education race matters," Weaver said.
State Sen. Stephen Goldfinch and state Rep. Lee Hewitt reminded voters that things are better in Columbia than in Washington.
Hewitt, who is unopposed in House District 108, said people who paid state income tax are due for a rebate of up to $700 from last year's return. The legislature also reduced the income tax rate from 7 to 6 percent.
Goldfinch added that "we passed probably the best anti-abortion, pro-life bill in the country. You can't get that everywhere."
That was the only mention of a topic that Democrats see as a rallying point, the Supreme Court's decision earlier this year to overturn the constitutional right to abortion established by Roe v. Wade.
"That's why this party is growing," Goldfinch said. He is not up for re-election this year.
Goldfinch also made a pitch to support this year's candidates.
"I know it's not my job to ask for money, but I'm going to ask you," he said. "They need your help. They are that warm blanket of freedom. Support them and they'll support you."
The event was organized by Jerry Rovner, a Pawleys Plantation resident who chairs the GOP in the 7th Congressional District. He called it a "historic" gathering of elected officials, including the Georgetown mayor and members of City Council elected last year to give the council its first Republican majority. Carol Jayroe is also the city's first female mayor.
"This is what a thriving party looks like," said 15th Circuit Solicitor Jimmy Richardson, who is also unopposed for re-election.