Government now serves at arm's length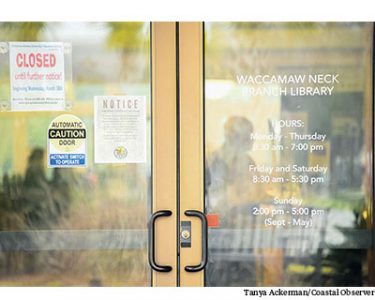 Waccamaw Library is among the public facilities that closed to the public this week.
Although Georgetown County has yet to have a confirmed case of coronavirus, life has changed.
Gov. Henry McMaster ordered schools in the state to close on Monday, and the county followed on Wednesday by closing libraries, senior centers and parks and recreation facilities, and limiting access to government offices.
"This is an unprecedented situation for us," Interim Administrator Wesley Bryant said. "We want to keep providing services to the best of our ability, but … we want to lead by example and do our part to keep our employees and our community safe."
Sheriff Carter Weaver said deputies may give citations to people who commit non-violent crimes instead of arresting them. Anybody who is arrested will be screened by a medical professional before being booked into the detention center. Weaver has also suspended visiting hours at the center. Deputies will also handle some non-emergency calls by phone.
Other than the sheriff's office, only the county's elections and voter registration office, airport, landfill and recycling facilities are operating with normal business hours.
The elections office is remaining open to accommodate residents filing to run for office in an upcoming primary.
With senior centers closed, the county has started a meal delivery service for older residents. Call 843-325-6716 to sign up.
The county has suspended proceedings in Family Court, Circuit Courts, Probate Court and Summary Court.
The county has extended the due date for taxes on all vehicles and watercraft to April 30 and the state Department of Motor Vehicles its waiving penalties for the same period.
Tracking cases: As of Thursday afternoon, there were 81 confirmed cases of coronavirus in the state. Horry County had five, including a person diagnosed at Waccamaw Community Hospital.
MUSC has started a virtual screening process at muschealth.org for people experiencing symptoms who fear they may have been exposed to the coronavirus. If the screening indicates that follow-up care is needed, the individual will be contacted by a local health care provider to schedule an appointment.
Tidelands Health is asking people not to come to hospital emergency rooms for testing.
People can also contact their family doctor for an appointment.
It takes between 72 and 96 hours to get the results of a coronavirus test. People who are tested should self-quarantine until the results come back.
The Tidelands Health Family Medicine practice in Pawleys island has set up a tent in its parking lot to check in patients. It is not a public testing site. The practice has also stopped taking walk-in patients.
Tidelands Health is also restricting access to its two hospitals. Patients will only be allowed one visitor between the ages of 18 and 69 at a time and all visitors will be screened. Adult patients in the emergency room will not be allowed to have anyone with them.
Tidelands Health has also closed HealthPoint until further notice.
First responders: Midway Fire and Rescue is taking extra precautions when responding to calls from people with flu-like symptoms, with paramedics wearing protective gear and masks. If possible, paramedics are treating minor injuries outside instead of entering a house.
"We're going to do what needs to be done to provide the service we always have," said Midway Fire Marshal Mark Nugent.
Inside Midway's four stations it's been mostly business as usual.
"We're always washing our hands," Nugent said.
Food insecurity: The state this week limited bars and restaurants to take-out or delivery service, and banned public gatherings of more than 10 people.
Since that time, dine-in meal programs at churches in the Pawleys Island area have closed, although All Saints Church is doing take-out on Fridays.
People needing food can go to the Baskervill Food Pantry at Holy Cross-Faith Memorial Episcopal Church or the Salvation Army office at 2401 Anthuan Maybank Dr. in Georgetown.
The Baskervill pantry will provide pre-packed bags of groceries. Clients and volunteers won't be allowed to enter the pantry. Clients need to provide their name, address and last three digits of the driver's license or state ID.
The hours are 10 a.m. to noon Monday through Friday. The pantry will reassess its hours at the end of the month.
Capt. Tim Scott expects the Salvation Army food pantry will remain open.
"I will give away whatever food I can get my hands on," Scott said.
People will have to provide their full name, address and how many people live in their household.
The Salvation Army also helps people pay utility and water bills, but Scott said he has no funds for that at this time.
He expects the most pressing need right now will be for food.
"If this goes on any longer and people aren't getting paid, that is obviously going to change," Scott said.
Staying informed: For health information, go to tidelandshealth.org.
To monitor the number of cases in the state, go to scdhec.gov.
For more on county services, go to gtcounty.org.