Graduates make up for time lost to pandemic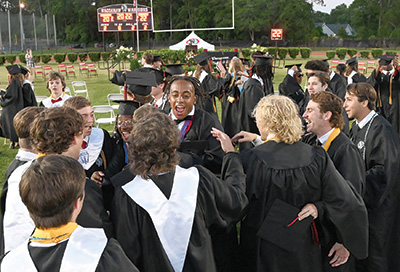 Jalen Hoxie, center, celebrates with his fellow graduates after the ceremony.
As the evening shadows lengthened across Warrior Field, the time grew short for more than 200 members of the Waccamaw High School Class of 2022.
Don't call them former Warriors. The school's motto is: "Once a Warrior, always a Warrior."
The seniors were sophomores when the COVID-19 pandemic ended their school year in March instead of May of 2020.
Their junior year started, with one half of the students in classrooms on Mondays and Tuesdays and the other half on Thursday and Fridays. That went on for five months.
They spent a lot of time apart, but principal Adam George pointed out that they were together at the end.
Max Congdon, the valedictorian of the Class of 2022, and Olivia Johnson, the salutatorian, both talked about mental health
issues in their addresses at this week's graduation.
Congdon talked about his struggles with anxiety while increasing his workload in school in order to fulfill his goal of finishing at the top of his class.
"I persevered with the help of my friends and family," Congdon said. "As we draw [attention to] the importance of mental health in this crazy world, please ask for help if you need it. Sometimes we all need a hand."
Johnson was a member of the school's Mental Health Club, which was formed after two Waccamaw High students committed suicide three years ago. Johnson said those two deaths taught her and her classmates an important lesson.
"We have learned to lean on one another," Johnson said. "We cannot go through life alone."
Congdon, who is headed to the University of South Carolina to study in finance, said that his father, Gerald, always talked about riding his bike to school in the harsh Canadian wilderness.
"Well dad, I graduated during a global pandemic," Congdon joked. "So I guess I win."
Johnson, who is headed to Princeton University to study engineering or biology, is confident that Pawleys Island will remain in the hearts and minds of her fellow graduates.
"Its beautiful shores and tight-knit community will surely call us home to our blessed isle," Johnson said. "We are so very blessed to call this incredible place our hometown."
She urged the Class of 2022 to follow God's call toward goodness and make a positive impact on the world.
George said this was a class that faced challenges, so he posed some of his own.
"I challenged this class at the beginning of the school year to think like Warriors. To focus on only the things that they have control over; to love what they do and attack each day with joy and enthusiasm; dream big and ignore the naysayers; and to be relentless and never give up on their dreams."
The class received $5.6 million in scholarship offers, including $1.8 million for those funded through the S.C. Lottery.
"They were able to step up and accept the challenge," George said.