Group asks court to block groin project during permit appeal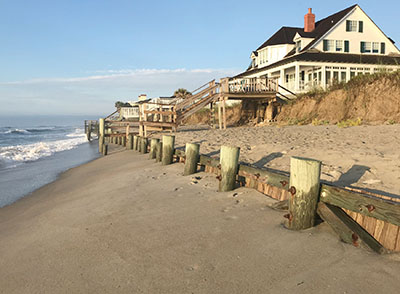 The beach in front is impassible at high tide.
An environmental group has asked the state Court of Appeals to halt a proposed beach renourishment project at DeBordieu until it rules on a challenge to the state's permit for the work.
The DeBordieu Colony Community Association plans to start work next month on a project that will place up to 650,000 cubic yards of offshore sand on 1.5 miles of beach and construct three rock and concrete groins to help hold the sand in place.
The Coastal Conservation League says the project doesn't meet the state law that allows groins to be built only in areas where the erosion rate is high and where structures are threatened by that erosion.
A state Administrative Law Court judge upheld the permit in January. The league appealed that decision. The group then asked Judge Ralph K. Anderson III to stay the permit for groin construction until the Appeals Court can rule.
Anderson ruled last month that the $1 million letter of credit that DeBordieu is required to obtain for remediation of any impacts from the groins is sufficient to pay for their removal if the Appeals Court overturns the permit. Anderson added that if a stay was issued, the Coastal Conservation League should be required to post a $13.5 million bond to cover the cost to DeBordieu if the permit is upheld.
"Setting an exorbitant bond in this matter would deprive Appellant of its right to judicial review," the league said it a filing last week. It asked that any bond be waived or set at a nominal amount "because this is an environmental case and Appellant is a nonprofit organization of limited means."
The league, which is represented by the S.C. Environmental Law Project, argues that a stay is needed to prevent the issue from becoming moot. "Preserving the status quo is equated with preserving the Court's jurisdiction," it said.
In denying the stay, Anderson said that preserving the status quo would mean that the beach at DeBordieu would be impassible at high tide because the water reaches a seawall that was built in 1981.
The Coastal Conservation League told the Appeals Court that the beach will be impassible during construction of the groins and again if the groins have to be removed because the permit is overturned.
"This interruption and injury will not occur if the status quo is maintained throughout the appeal," it said.