Gunman pleads guilty to 2019 shooting on second day of trial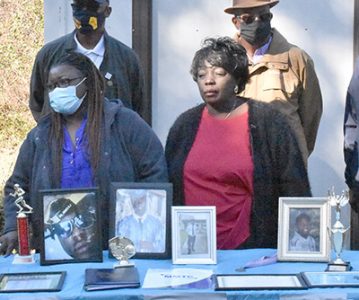 Deondre Brown's great aunt, Ethel Gibbs, left, and grandmother, Carrie Williams, said they thought justice had been served.
A Pawleys Island area man pleaded guilty on Wednesday to voluntary manslaughter in the 2019 shooting death of Deondre Brown outside his family's home on Martin Luther King Road.
Aiden Zasimovitch, who was 17 at the time, was sentenced by Circuit Court Judge Ben Culbertson to 30 years in prison. He was sentenced to six months for criminal conspiracy, to be served concurrently. He will get credit for 319 days served before his release on bond last year.
"Deondre was a loving and fun-loving individual," Carrie Williams, his grandmother, told the court before the sentencing. "A part of my heart is gone without him."
Brown was 20. His family said afterward that justice had been served.
Zasimovitch's family wept as he entered his plea on the second day of his trial on a charge of murder. As he left the court in custody, he turned to his family and smiled. "Love you," he said.
The jury of six women and four men never heard the recorded confession Zasimovitch gave to deputies after he was taken from class at Waccamaw High the day after the Dec. 11 shooting. Public defender Ron Hazzard argued at a pre-trial hearing that the confession should be suppressed because his client had asked for an attorney and his mother.
Neither request was heard on tape. John ruled the confession could be used as evidence, but the state only presented one witness before a plea was entered.
Zasimovitch told deputies he waited in the trees near Brown's house with a rifle. He shot four times.
"I did it. Nobody else did," he told the deputies.
Correction: The print version of this article incorrectly identified the judge as Steven John. It was Judge Ben Culbertson who presided.