Senior returns home to first Habitat Cottage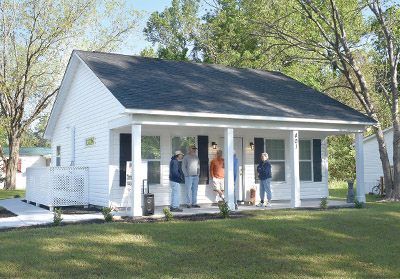 Wilson Dozier's new home in Georgetown.
After more than a year of living with relatives, Wilson Dozier moved back onto his property at the corner of Lafayette and Duke streets in Georgetown on Tuesday.
"I'm really excited," Dozier said. "I'm glad to be back on this corner."
Dozier left because his house was falling apart around him. He couldn't stay inside when it rained because the roof leaked so badly.
Dozier returned after Habitat for Humanity Georgetown County built him a new house. Dozier is the first county resident to get a house as part of the Habitat Cottage program.
"It's really exciting to see it all come to fruition, to see our dream become a reality, to see Mr. Dozier get into his house," Laura Gassler, the nonprofit's executive director, said.
At 675 square feet, the cottages are small enough that the walls can be assembled inside the workshop at the Habitat office in Georgetown. The cottages have a combination living area and kitchen, a bedroom large enough for a hospital bed or a caregiver's cot, and one bathroom. A vaulted ceiling gives the house the sense of being larger.
Like Habitat's other program for low-income residents, the seniors will still have a mortgage, but it will carry no interest and be tailored so that payments will account for 25 to 30 percent of their income. That will include insurance and taxes, Gassler said.
The cottages are also energy-efficient and handicapped-accessible so that the owners will be better able to age in place.
Each cottage costs $65,000 to build.
"It's a great, viable concept for affordable housing, especially for seniors," Gassler said. "The need is huge. There's rental shortages. There's housing shortages."
In 31 years in Georgetown County, Habitat has built 112 homes for low-income residents. The houses range between 1,000 and 1,200 square feet.
The nonprofit added a repair program in 2020 and Dozier applied for help. It was clear to volunteers that his nearly 90-year-old house was beyond repair.
Construction of the cottage on Dozier's property began in October and was completed this month.
Dozier said he couldn't wait to eat breakfast on his front porch.
After the dedication ceremony for Dozier's house was complete, volunteers traveled to the Habitat office to start working on the next cottage, which is being funded by Club 142 United, a local activist group. Club members have raised enough money to build two cottages.
Gassler confirmed that Georgetown County will be getting some of the $436 million that philanthropist MacKenzie Scott donated to Habitat for Humanity International, although Gassler said the Georgetown board has declined to release the amount.
"We're really excited," Gassler said.
Habitat has pledged that $25 million of Scott's donation will be used to increase the supply of affordable housing.
Gassler said the donation does not mean Habitat Georgetown is going to stop its fundraising efforts.
"We have decided to use that money to leverage some other bigger projects," she added. "Before, [there] was a five-year plan, a dream down the road. It's really going to allow us to escalate and advance those objectives."
Scott has donated more than $9 billion since she and Amazon founder Jeff Bezos divorced in 2019.