Hall of fame remembers teacher who gave voice to county's past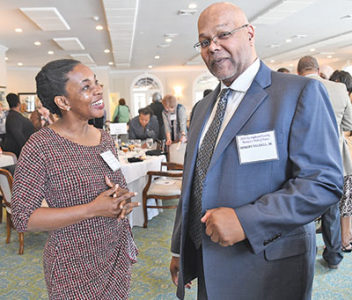 Tracy Bailey talks with Robert Yeldell Jr., the grandson of Florida Yeldell.
Florida Yeldell, a lifelong educator, was inducted as the ninth member of the Georgetown County Women's Hall of Fame last week.
"She touched the lives of hundreds of students, drawing them in with her quiet presence, holding them fast to the ideals of scholarship and excellence, believing that her students should aim high and challenging them to meet her lofty expectations," said Tracy Bailey, guest speaker at a luncheon to remember her contributions to the county.
Robert Yeldell Jr. was pleased to see the dozens of people who came out to honor his grandmother.
"It's fantastic. The sense of community and everything was really moving." Yeldell said. "It added a lot of color to what you knew and what you understood and to see how that is reflected out. It was really cool."
Bailey, founder and executive director of the nonprofit Freedom Readers, a literacy program for children in low-income communities, knew Florida Yeldell. "She moved through the world with unshakable calm, confidence, fiery fierce grace and abounding love," she said.
Yeldell grew up in Georgetown, the daughter of one of Georgetown County's first black postal carriers, and lost her mother at a very young age.
"What makes Florida's story so amazing is that in the face of every obstacle, and despite every test, she had the courage to believe," Bailey said.
Yeldell's father would bring home books and magazines for his daughters.
"Florida believed that immersing herself in the written word was her birthright," Bailey said. "And in a world structured to keep her on society's lowest rung, she believed in her own value, her worth and her intellectual prowess. She believed she had an obligation to develop her God-given gifts. She believed in the power of the word."
Yeldell graduated from Morris College in Sumter in 1936 with a English degree and began her career in education teaching elementary school in Andrews.
"I can imagine her optimism and her excitement for the opportunity to mold and shape those young minds in front of her," Bailey said. "She believed in the possibilities that lay undiscovered within them. She believed that her words and her actions would make a difference despite the harsh realities that awaited her students just outside the door."
Yeldell then earned a master's degree in history from Howard University.
"I can see her in my mind's eye, smiling that radiant smile of her's, while she thought of all those who had struggled and fought for her to have a chance to breathe free air," Bailey said. "As she embarked on that road to master's degrees in history, I know she spent long moments thinking of her father and his own thirst for knowledge. Racism might have kept him out of institutions of higher learning, but it wouldn't hold her back. She believed she could be a change agent, she believed in her power to break down barriers."
Yeldell taught in Texas, California, New York and Washington, D.C., and earned a master's degree in geology at California State University Chico before returning to Georgetown County in 1988, where she spent the last 18 years of her life.
"There is something about the siren song of the Gullah coast that refuses to let go of its children," Bailey said. "She [believed], maybe more strongly than she did in her entire life, that Georgetown County could live up to its potential."
Yeldell spent more than a decade as a docent at Brookgreen Gardens.
"While some would question her decision to become one of [Brookgreen's] only African-American docents, she blocked out those voices," Bailey said. "Instead she turned her ear to the sound of the ancestors who had been enslaved on the property. She believed that they offered words of peace and forgiveness."
Yeldell became very involved with education programs at Coastal Carolina University and the school awarded her an honorary doctorate of humane letters in 2004. She helped found CCU's Third Quarter program, which would later become the Osher Lifelong Learning Institute, where she taught about the history of African-Americans in Georgetown County.
"Even when a student argued with her over the facts of the history she presented because they didn't like what they heard, she was firm," Bailey said. "Beyond the facts, I think Florida continued to teach and believe up until her final days with us, because she had a heart flooded with hope. Florida hoped that the goodness in hearts would win out. She hoped that one day we would understand that there is power in our togetherness. Florida hoped that we would not forget that though the wounds of racism run deep, they can be addressed and they can be healed."
Bailey said she hoped Yeldell's life and accomplishments would inspire people, like they inspire her.
"As we remember Florida today and celebrate her legacy, may we all be inspired to dream a bigger dream for ourselves and return to hope," Bailey said. "Let us leave here today invigorated and energized to move our community and our county closer to justice and freedom for all. Let us pick up the mantle that Florida carried so courageously."
At the end of the luncheon, guests watched a video clip of Yeldell discussing her life. The full video is one of the most watched in the Georgetown County Library System's digital archive, Dwight McInvaill, the library director, said.