Hall of Fame's first class set the pace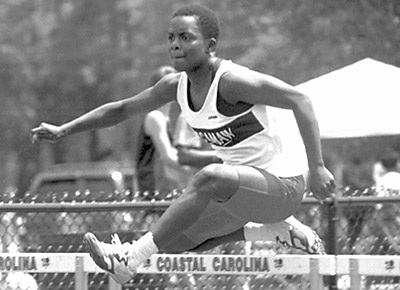 Deliah Arrington in 1999, the year she won three state titles.
The inaugural class of the Waccamaw High School Athletic Hall of Fame is full of state champions, a state record holder and an All-American.
"It's a great representation across all of the sports that have had success at Waccamaw," principal Adam George said. "I'm very happy with the class."
Deliah Arrington is seven-time state champion. She won the 100-meter hurdles in 1996, 1997, 1998 and 1999; the long jump in 1997 and 1999; and the triple jump in 1999.
Brett Green, also an inductee, said Arrington could be in a Hall of Fame class by herself.
Arrington and Green were teammates on the Waccamaw track team. Green won state titles in the shot put in 1998 and 1999, and discus in 1999.
Wesley Welchel set the same state record twice while pitching for the Waccamaw baseball team. He struck out 21 batters in a game against Carvers Bay on April 2, 2004, and 21 batters against Mullins on March 24, 2006.
"It feels great to be not only recognized, but even more so an honor to be inducted in the very first Hall of Fame class," Welchel said. "I'm dreaming of the day that I'll get to bring my children back to Waccamaw to see my name on banners and share the endless stories I have from Waccamaw High School."
Four former tennis players are now Hall of Famers.
Tolley Rice won four straight individual titles from 2009 to 2012; Harrison Richmond won an individual state title in 2012 and was named an All-American in 2011 and 2012; Allison Stanford won individual state titles in 2005 and 2006; and Wesley Moran won individual state titles in 2007 and 2008.
The inaugural class also includes three coaches.
James Brown won state titles with the girls tennis team in 2004, 2005, 2006 and 2009, and the boys tennis team in 2006, 2007, 2008 and 2011. Brown's boys' teams were also runners-up for a State title eight times.
Dennis Lee was Waccamaw's first football coach, and as the school's athletic director he helped build the other sports programs.
Joan Cribb won a state title with the girls tennis team in 2010 and coached cross country, volleyball, soccer, basketball, track and cheerleading.
"It's a great honor to me," Cribb said. "It makes you realize that the hard work and the love of athletics and the kids makes it all worth while."
Cribb was also athletic director at the school for 16 years during a time when the number of sports teams grew from 26 to 36 and multiple individuals and teams won region, Lower State and State titles.
"I was just in awe of what we did," Cribb said. "It wasn't really because of me. It was because of the coaches and kids that we had. If you want to be a good athletic director you have to have good people working under you to make you look good."
Cribb is on the Hall of Fame selection committee, but kept quiet when the topic of coaches came up.
"I didn't want someone to tell me 'you got in because you were on the committee,'" Cribb said.
The school is planning to honor the Hall of Famers on Oct. 1. George said there will be a private ceremony for the inductees and their families inside the school's auditorium that evening. The inductees will then be honored publicly during halftime of the varsity football game against Aynor.