Help wanted: School district seeks input on superintendent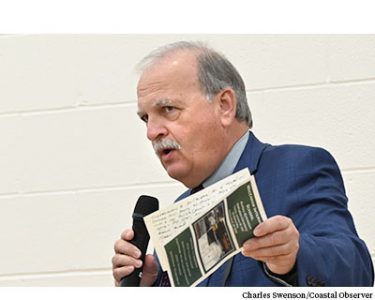 Superintendent Randy Dozier will retire at the end of June.
The Georgetown County School Board this week approved a schedule that will have them select a replacement by the end of May for Superintendent Randy Dozier, who will retire June 30. That includes more 20 hours of public engagement over three days this month to help consultants identify the qualities needed in the district's next leader.
BWP and Associates, an educational leadership search firm in Okatie, has a three-member team that will be handling the process for the school district. BWP expects to start advertising the position online this week and will continue taking applications through April 24.
School Board members Richard Kerr and Pat DeLeone, who represent the Waccamaw Neck, were pleased with how detailed the 15-week schedule BWP presented to the board was.
"I think that they have done enough of this kind of work that we're going to get a pretty thorough candidate list," Kerr said. "I feel that we got off to a good start."
"It is thorough," said DeLeone.
A series of "community engagement activities" are scheduled for the week of Feb. 24, including a public input meeting on Feb. 24 at 6 p.m. at Waccamaw High School. It is one of four that day at the county's high schools.
BWP will also meet that week with school board members, teachers, district staff, retired educators, the NAACP, elected officials, and other members of the community such as business leaders and ministers.
BWP has also prepared an online survey, in English and Spanish, so people who can't get to a forum or meeting can give their input. The survey will be available starting Feb. 24.
DeLeone said input from district staff and the public is very important in a small community like Georgetown County.
"Teachers are so excited that they've going to be able to complete a survey and that it's anonymous and that it's going to go to BWP," DeLeone said.
"I really believe that a lot of our community, like parents, want input," Kerr said. "They want to feel like they were asked. … It's their school system."
The results of all the community engagement activities will be made public at the March 3 school board meeting. BWP will also ask the board at that meeting to approve a "leadership profile" of the next superintendent that it has created based on the input, and set salary guidelines.
At the board's April 7 meeting, BWP will give an update on the search and the results of the online survey, and let the board know how many applications they've gotten and a general idea of how qualified the applicants are.
On May 4, BWP will present the board with all the applications, along with a list of five to seven candidates whom they consider to be the best. Board members will then select which candidates will be interviewed between May 11-13. The board will then pick a group of finalists. By law, the district must publicly identify at least three finalists.
Second interviews for the finalists and meet-and-greets with the community will take place during the week of May 18-20, and Dozier's successor is expected to be named shortly thereafter.
Dozier was hired as assistant superintendent for Georgetown County is 1999. His current contract expires at the end of June and it was expected that he would retire. He then signed a one-year extension in September that allows him to retire as soon as his replacement is hired. If that happens, the district could retain him as a consultant for 90 days, with the same salary and benefits.
The structure of the search for a new superintendent may have risen out of a failed search for a deputy superintendent to replace longtime deputy Celeste Pringle last year.
In January 2019, the district started advertising the job and planned on having someone hired by the end of March. Not satisfied with the final candidates, the district ended the search and decided to split Pringle's position into two jobs. In June, Tyronne Davis was promoted to interim assistant superintendent in charge of facilities and transportation, and Jon Tester was promoted to interim assistant superintendent in charge of school and support services.