Homegrown artist has design for opening a school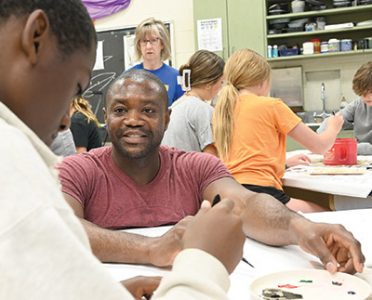 Charles Williams works with students in Christie Weaver's art class at Waccamaw Intermediate.
When Charles Williams was a first- and second-grader at Kensington Elementary School he was unfocused.
His mother, who volunteered at the school, and Christie Weaver, one of his teachers, realized that art helped him concentrate.
"My mom was in the art room helping Christie and I was able to calm down and art was the thing that made me calm down," Williams said. "Christie has been like a second mom to me in seeing the gift that I had. I just paid attention to them and listened to them."
Now a world-renowned artist, Williams wants to help students who are unfocused, like he was, by starting an art school in Georgetown and Charlestown counties.
"Kids in public schools, especially in elementary and middle school, they're trying to find themselves, they're trying to understand what their gifts are, what their talents are and be among their group or tribe," Williams said.
Williams spent most of last week working in a Waccamaw Intermediate School classroom with Weaver and her students.
"As much as possible each year I come and I work with the kids to show that what Christie Weaver is sharing with them is very important and to let them know they can become an artist if they choose to," Williams said.
The techniques he learned from Weaver, and local artists like Bruce Chandler and Vida Miller, he still uses today.
While attending Carvers Bay High School, local artists and businesses on Front Street, like Prince George Framing, let Williams sell his work and hang around their shops to learn from other artists.
"It was literally a community effort," Williams said. "Everybody from Georgetown to Pawleys was a part of that collaborative, helping me to get me where I am now."
Williams and Weaver even sold his work in the lobby of the Waccamaw House in Litchfield.
"I would paint 5-by-7 watercolors and we had a card table and a shrink wrap machine," Williams said. "We would sell those, and all of that money from me selling my artwork in Georgetown and in Pawleys went toward my college tuition."
After graduating from Carvers Bay and the Savannah College of Art and Design, Williams worked in graphic design and advertising before transitioning to full-time artist. He's now associate chair of the arts department of North Carolina Central University and a professor of drawing and painting.
He and Weaver have been talking about opening an art school for years.
"What we see in the area is it's more geared toward sports and athletics," Williams said. "What I'm wanting to show these students is, here are different ways that are in the arts that you can succeed at."
Williams wants to use his experience of learning from local artists and selling his work while still in high school as a model for the new school, which he plans to call the C.E.W. Collaborative. Students will learn technical and financial skills, build a portfolio of work and put the proceeds from the sale of their art in a college fund.
"I'm taking what one would learn in college and condensing it and simplifying it and providing it to them before they get to college," Williams said. "The percentages will be higher for them making it in the arts."
The plan is to have branches in Pawleys Island, Georgetown and Charleston County, probably in rented spaces to start.
"Ideally I'd like to have my own location," Williams said. "We want to start off small. We want to start out with the visual arts but we want to grow and expand into the performing arts."
Williams is a fan of the new magnet program starting at the five schools in the Carvers Bay area.
"I think it's a good opportunity for students to get exposure. The earlier I got exposure with Christie Weaver and my mom, it built my confidence and helped me form my identity," Williams said. "I think it's a great start, but I also know there's a whole abundance of people here in the area that all of us can tap into and reach out to collectively to make this happen."
Both Williams and Weaver believe art helps develop character and self-discipline.
"They have to understand, you can be talented but if you're not willing to work hard, you're not going to go anywhere with it," Weaver said. "Just like in any other field. It's how hard you work. It's not who's better. It's your work ethic. And we need to be teaching that more and more every day."
Williams and Weaver are looking for spaces big enough for classes and would like to see the art school up and running in the fall. Williams sees it as his legacy.
"When I leave this earth, when I die, it's still going on," he said. "There's a place and a space for kids to be able to learn and have that community. Those who are made to create need their community."