Illness tied to Afghan war a legacy of 9/11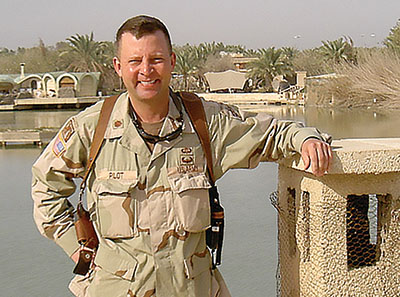 John Pilot was diagnosed with cancer 10 years after serving at K2.
Immediately after the terrorist attacks of Sept. 11, 2001, the United States government set up a base in Uzbekistan near the border with Afghanistan to launch strikes against the Taliban and al Qaeda.
Nineteen years later, 75 percent of the more than 10,000 servicemen and women who served at the Karshi-Khanabad base have died or been sickened by illnesses directly linked to their time there.
John Pilot of Litchfield is one of the survivors of K2, which is the nickname of Karshi-Khanabad.
Pilot was a major in the Army while stationed at K2 from June to November 2002. He was diagnosed with prostate cancer in 2012.
"I suspected immediately it was from K2," he said.
According to a 2015 study by the Army, military personnel who served at K2 are 500 times more likely to develop cancer.
Pilot also suffers from post-traumatic stress disorder and diminished lung capacity.
Near the start of Operation Enduring Freedom, the U.S. chose K2, which was an abandoned air base, for Camp Stronghold Freedom.
"They had to find someplace quick. It was basically any place in a storm to set up," Pilot said. "Probably someone didn't do their homework."
By the end of November 2001, the Taliban was in retreat in Afghanistan.
"We should have left at that point," Pilot said. "Senior leadership in the Bush administration knew of the contamination but they chose to keep the base going."
K2 remained in use until 2005.
According to top secret documents declassified in February, when the Soviet Union used K2, it included a munitions dump, a storage area for uranium and a chemical weapons factory.
"The Russians are not very green or eco-friendly," Pilot said. "Their solution was, they dug a big hole, bulldozed everything into it and then they covered it."
A declassified Department of Defense document listed 399 chemicals that soldiers were exposed to. Another document said everyone at the base was exposed to radiation.
U.S. forces used dirt from the base to fill sandbags to protect the tents that the soldiers lived in from attacks. A declassified document said the soil was contaminated with jet fuel.
Scattered around the base were battery-operated detectors for chemicals like nerve gas.
"They would go off all the time," Pilot said. "Their solution was to take the alarms away from us."
Water in ponds around the base didn't look normal.
"There were weird colors in there," Pilot said. "Obviously they were contaminated with something."
Many areas of K2 had large "danger off limits" signs that the soldiers would pose next to for pictures.
"In hindsight, I think to myself, 'what were we thinking?' " Pilot said.
The House Oversight and Reform subcommittee on national security is investigating K2 in order to get the illnesses recognized by the Defense Department and Department of Veterans Affairs.
There are four bills in the House dealing with K2, including one that is co-sponsored by Rep. Mark Green, R-Tenn., an Army veteran who served at K2 with the 160th Special Operations Aviation Regiment and has battled colon and thyroid cancer. The bills would force the Defense Department to conduct epidemiological studies and determine presumptive conditions.
Pilot calls the legislative efforts a start, but "it's really hard to get [the Army] to do anything to benefit the soldier," he added.
Pilot is concerned about Reservists who were stationed at K2 who then left the service when they returned home. Some may not know their health is in danger.
He has read the declassified documents and describes them as "disturbing."
"I'm angry. I'm disappointed. I'm scared," Pilot said.
For more information on K2, including links to the declassified documents, go to strongholdfreedomfoundation.org. The website has a registry for people who served at K2. There is also a private Facebook page with more than 4,300 members.