In a campaign driven by social media, puppies still hard to beat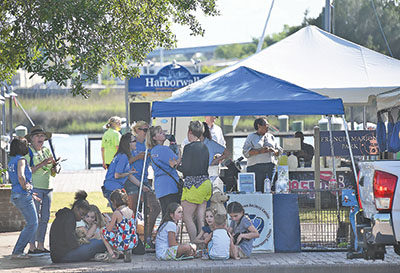 Puppies draw crowds to the St. Francis Animal Center tent at the Palmetto Giving Day celebration in Georgetown.
The third annual Palmetto Giving Day was another success, raising $1.2 million on Tuesday for 48 Georgetown County nonprofits.
Teach My People in Pawleys Island was the top fundraiser, taking in $125,390 from 128 donors.
Helping Hands of Georgetown raised $115,000, the second most on Tuesday, from 131 donors.
"It was a great day for us, a terrific response from the community" said John Bush, director of Helping Hands. "Without it our programs would struggle."
Bush, his staff and volunteers came up with a large social media campaign, which included numerous Facebook posts and live video feeds.
"It caught on and obviously the community is enthusiastic and supportive," Bush said, adding that many people were inspired to donate by the $48,000 in matching funds the nonprofit secured.
Geales Sands, executive director of Frances P. Bunnelle Foundation, which founded Palmetto Giving Day, said lining up matching money in advance seemed to be the key to success on Tuesday.
Friendship Place in Georgetown was third with $100,825 from 105 donors.
"It's great for the community that tiny little Georgetown can give that much," said Charlie Ball, its director. "It's great to see people excited about giving."
Ball said he, his staff and the board members worked hard on a social media campaign leading up to Tuesday.
"It seemed to work," he added.
Ball said the money raised will help with the budget and give the nonprofit a chance to take a step back from fundraising for a short time.
"It gives us some latitude to focus on our clients and look further down the road on other projects," Ball said. "We're very grateful to all the donors in Georgetown and now we have to be good stewards of it."
This was the first Palmetto Giving Day that any nonprofit raised more than $100,000. Sands was very pleased that the three that did were all small, grassroots organizations.
"They're all little home-grown nonprofits," Sands said. "They don't serve any other counties except Georgetown."
The Saint Frances Animal Center in Georgetown had the most donors on Tuesday with 236 and ended up with a little over $40,000.
"We were tremendously excited," said executive director Devon Smith. "More than any other day it makes me feel so grateful."
Smith said many of the Saint Frances donors gave $10 or $20. "It's about all those people doing what they're able to do," she added.
The nonprofit's secret fundraising weapon, Smith said, is puppies. There were plenty of Saint Frances puppies out during the Palmetto Giving Day celebration on Tuesday night along Front Street in Georgetown.
Smith said the money will pay for training from "Dogs Playing for Life," a company that teaches shelter staff members and volunteers how to handle dogs in larger groups and socialize at-risk dogs to make them easier to adopt.
"We focus so much on the physical health we forget what the mental health is like in a shelter," Smith said.
The first Palmetto Giving Day two years ago raised $676,000. Last year donations increased to $1.1 million.
To see a complete list of donors, go to palmettogivingday.org.