In a cast of 'dog people,' one stands out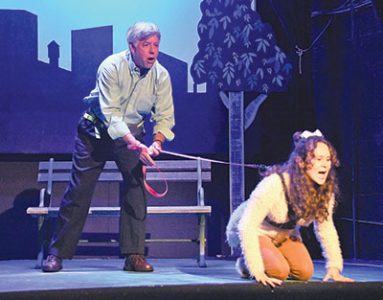 Jeff Siegrist and Mary Hannah Newton as Sylvia.
It's only natural that when there's a play about how a dogs change people's lives, that the actors and director are all dog people.
Such is the case with "Sylvia," the latest production of the Swamp Fox Players, which opens Nov 7.
"Sylvia," written by A.R. Gurney, is the story of Greg and Kate, two empty-nesters in New York City whose careers are going in opposite directions. Problems ensue when Greg brings home a stray mutt he found in the park that disrupts and almost ends his relationship with Kate.
"I've been running lines when I've been walking my dog. Her name is Penny, so I just plug in Penny where Sylvia goes," said Jeff Siegrist of Pawleys Island, who portrays Greg. "Poor Greg can't live without Sylvia, and I can see that."
The director, Bob Gauss, has owned six rescue dogs during his lifetime.
"People talk to their dogs, or their cats, like their kids," Gauss said. The play "is actually easier than other plays because everybody has a dog, or knows a dog, and they just watch the dog."
Traci Hessler of Pawleys Island, who portrays Kate, is a cat owner, but she used to own a dog
"I love dogs," she said, especially her "granddog."
Laura "LaLa" Fradkoff of Murrells Inlet has two roles in the play: a neighbor of Kate and Greg, and a transgender psychiatrist. She has been a dog person all her life.
"They're fresh and they do what they want to do," Fradkoff said. "They steal your heart and have accidents. It's like a kid."
"I love dogs, I'm not a cat person at all," said Mary Hannah Newton of Andrews, who portrays the title character.
Newton, a senior at Andrews High School, finds thinking like a canine to be a challenge.
"It's a lot of jumping up and down and running around, so you have to have a lot of energy," she said. "You always have to be doing something, you can't just sit and look at the characters. You always have to be getting in trouble or running around."
Newton's preparation for the role included watching how her dog behaves.
"When people come into our house he would get real excited, I would take note of that," Newton said. "Or how he gets excited when he sees food in his bowl or when we tell him he can go out. I use that to get into character."
Newton spends a portion of the play on a leash.
"It's hard to get used to," she said. "I'm not used to having someone controlling me. But it hasn't been that bad."
Hessler said Newton is into everything on stage, just like a dog would be.
"She's all over you, which is what she's supposed to do," Hessler said. "With my character, I'm yanking her off the couch so I have to try not to be too rough with her, but at the same time convey that I want her away."
Siegrist, who is a veteran of about a dozen Swamp Fox productions, had seen the play and always wanted to be in it. He didn't see a challenge in performing with a human playing a canine.
"I visualize Mary Hannah as a person acting like a dog, instead of as a dog," Siegrist said.
Fradkoff, a New York City native who moved south two years ago, finds the play "challenging."
Newton "is jumping around like a real dog and you're imaging she's a real dog," Fradkoff said. "It's cute but it's weird. But it all fits."
Gabe Campbell of Georgetown, who portrays Tom, a dog owner who befriends Greg, agreed.
"It's unique, it's something you don't see every day, a person being a dog," he said. "Once you get over that it's really fun and interesting."
Campbell said being a dog owner has helped him with his role.
"It's gives you that little bit of experience of how to act around dogs," he added. "It gives you that dynamic."
This is the third Swamp Fox production for Hessler, who was recruited for the role by a friend.
"I really didn't know anything about it until I got the script," Hessler said. "But I loved Kate's character and I think the play is poignant and funny. … She just wants to have Greg to herself."
The entire cast has dedicated the show to their dogs, Gauss said.
If you go
What: "Sylvia" by A.R. Gurney.
When: Nov. 7-9 and 14-16 at 8 p.m.; Nov. 10 and 17 at 2:30 p.m.
Where: Strand Theater, Georgetown.
Tickets: $18 at swampfoxplayers.com or 843-527-2924.