In a tough year, more toys reach more kids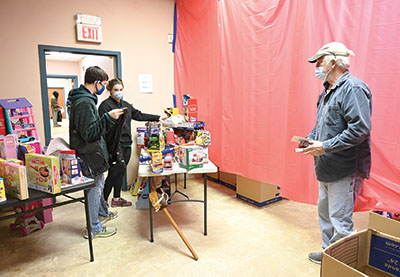 Larry Snyder, right, gets ready to restock the toys after a client makes her selections.
David Armbrister listened closely to the woman holding the large stuffed bear. He looked over the sets of blocks, the school bus that beeped, the piano that made silly sounds. He suggested a bright blue dump truck. The woman agreed. That was what she was looking for.
"I try to find out about their kids," Armbrister said. This was his second year serving as a volunteer at Toys for Tots. He was in the room with toys for infants through age 2.
If a parent is undecided, he said, he recommends educational toys.
The program will reach about 2,000 needy children in Georgetown County this year, up by about a third from last year, said Don Corinna, the local community organizer for the Marine Toys for Tots Foundation. Corinna served as a sergeant in the Marines.
"This was the best year for children," he said.
The coronavirus pandemic caused a drop in the number of donated toys even though the familiar Toys for Tots boxes were in over 200 locations. "We just weren't getting them in the beginning," Corinna said.
He used donations to buy $16,000 worth of toys on the eve of last week's two-day distribution.
There were 8,600 toys waiting when parents, mostly mothers, began to arrive at the vacant corner of a shopping center in Georgetown that once housed the local campus of Coastal Carolina University. Toys are displayed by age groups in the former classrooms. Because of the pandemic, the parents were not able to search through the toys. The volunteers kept tables stocked.
"There's always a decent selection for everybody coming in," said Larry Snyder, who was in charge of the age 3 to 5 room. "We've had some very nice choices today – scooters, basketball hoops. It's pretty impressive."
Toys for Tots partners with the Salvation Army and churches around the county to find families in need. There are usually between 1,200 and 1,300 children who get toys, said Corinna, who has led the local program for 14 years. He reached out to churches and other organizations this year to add to the recipients.
"We had 300 to 400 more children," Corinna said. "That's the focal point: the children."
Toys were also distributed through some area churches, he said.
On the first day of distributions at what Corinna called "the toy store," parents picked up about 4,800 toys. Jerry and Denise Goodrich, who are in charge of the store, then started taking inventory.
"Denise puts her hand on every toy," Jerry said.
"We have to know," Denise said.
Their biggest fear, they said, is that there will be a child who doesn't get a toy.
The toys that Corinna bought, between 800 and 900, filled the gap. He said a collection sponsored by the county fire department at Walmart brought in more, along with donations.
"I'm standing out there in my dress blues. People are handing me $20 bills," Corinna said. "In spite of COVID-19, this has been the most awesome year."
The extra toys will be used for a Christmas in July program.
Corinna spent the collection days doing temperature checks as people arrived for their scheduled appointments. "I was around all day with a grin on my face," he said.
"It's really a wonderful program," Snyder said. "You always receive more than you give."
How to give | Toys for Tots takes donations year round. For the Georgetown County program, they can be sent to Marine Toys for Tots Foundation, 770 Camden Circle, Pawleys Island, SC 29585.